Schindler stepped into the office of Chief of Police the same month Covid hit. Photos by Patricia Schallert
by Sheli Ellsworth
Ventura Police Department (VPD) Chief Ken Corney officially retired in December 2019 after 33 years on the force but stayed in office for a couple of months so a nationwide search for a new chief could be conducted, and ultimately so his successor, Darin Schindler, could complete his open projects. Schindler stepped into the office of Chief of Police the same month Covid hit. "All of a sudden everything was locked down. We were patrolling parks and beaches," Schindler explained. "People were calling in about their neighbors who were violating the no-congregating order by having get togethers, and not social distancing, against the health order.
Schindler says his own wish list went out the window. Promotions were delayed when Covid health protocols became a priority. "We had flex schedules for investigators, some administrators worked from home. Dispatchers spread out into the far corners of the room." About a third of the 250-person police force came down with the virus, but none were hospitalized and there were no deaths. "While many employees were exposed on-duty, most of the positive infections were believed to have been contracted during off-duty time. Regardless, quarantines were occurring due to potential exposures to co-workers and investigators had to put cases on hold and perform patrol duties."
"After a few months, about the time of the George Floyd killing, we began to put together a new, updated VPD Strategic Plan for moving forward. Even though Ventura PD has enjoyed a positive and strong relationship with the community for several years, there was increased social unrest across the country in regard to policing. It was a stressful time for the community and police officers everywhere. I sat down with my command staff, and we spoke about using the calls for justice as an opportunity to strengthen our police/community partnership even more." Chief Schindler said.
The Ventura Police Department updates their goals and strategies every few years to keep pace with the changing needs of the community. Schindler's 2020-2023 Plan states that the VPD Mission is: To protect, serve, and problem solve with our community. The VPD Vision: Great people, providing exceptional service. VPD Values: Excellence, Integrity, Professionalism, Respect and Transparency.
Schindler has six major goals.
1) Crime Control: Improve response times to calls for service, achieve a crime clearance rate that is better than the national average, and achieve a reduction in aggravated assaults and robberies. Some of the strategies include expanding forensic examination and crime scene processing capabilities, reinstituting gang prevention and intervention programs, and increasing crime prevention messaging across social media platforms.
2) Team Development: Attain 100% compliance with Police Officer Standards and Training requirements, staffing retention, and aligning sworn demographics with those of the community. The department has already incorporated mental health resiliency into its wellness program and has begun to develop a teen explorer program with representation from each of the City's seven districts.
3) Active Partnerships: Increase community outreach and input into police operations, decrease community complaints related to vagrancy, and strengthen relationships with community stakeholders. As part of this goal, each City district now has a police commander assigned to oversee it and the department has staffed an enhanced patrol presence during peak hours in its public areas.
4) Safe neighborhoods: Increase collaboration efforts within neighborhoods, reduce fatal and injury traffic collisions, and reduce auto thefts, burglaries, and larcenies in neighborhoods. The department is moving back to an in-person neighborhood watch model, has increased gun violence prevention and response training, and increasing its Volunteers in Policing program.
5) Efficiency and Accountability: Increase Department transparency, track and reduce personnel complaints, and attain a 100% "within department policy" for all use of force incidents. In 2021, the Department was an early implementer of the Racial and Identity Profiling Act, and has increased training in topics like tactical communication, ethical decision making, implicit bias, racial profiling, and cultural diversity.
Schindler has also noticed an uptick in Ventura's homeless since Covid. Homelessness tends to be transitory by nature and quite often surrounding communities will experience shared issues and responses in relation. "When we come in contact with individuals that are homeless our officers will talk to them to get a little bit of their stories, and find out if they are open to resources or other types of assistance," said Schindler. Many of the homeless in Ventura come for the mild climate, the secluded river bottoms, county assistance, food banks and shelters. With the county jail located in Ventura, inmates are released onto the streets driving the numbers even higher.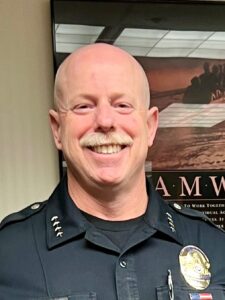 The Chief said there are different reasons for homelessness and a one size fits all approach doesn't work. Some people are temporarily down on their luck. A lost job or medical expenses that wiped out their savings can create homelessness that needs a hand up. "These people are usually receptive to help until they are back on their feet."
There is another group, the ones Assembly Bill 109 (Prison overcrowding) released—a lot of "non-violent offenders." These homeless people are more hardened and more likely to commit crime, even from other homeless people, sell drugs and are more likely to attack others. "They rarely want or benefit from services. We may lock them up one day and see them out the next. They are usually habitual offenders."
The third tier and the largest population is made up of people with mental health and/or addiction issues. "We always begin by offering assistance, but we can't force anyone to accept help. It is not illegal to be homeless or mentally ill. Even those individuals who get counseling and medication may choose not to take it. It is the saddest group of homeless. Over the years, we have seen an increasing correlation with the need for behavioral health intervention amongst this population. Often times, our officers will receive calls for service on the same individuals several times a day. When we do transport someone to Behavioral Health for assistance, more often than not, the facility is at full capacity and we must wait for an opening."
The Chief would like to see Ventura County take a more collaborative approach to help with the homeless problem. "We need more resources, especially in the areas of mental health treatment and addiction intervention. Homelessness may never go away, but if we can help some unhoused individuals, maybe they can eventually help out others." The cost to society is momentous. "When we clean up a homeless encampment it is not unusual for us to haul away tons of debris. Sometimes officers locate stolen property amongst the debris.
Schindler indicated that his job today is much more about policing and problem solving than it is about "law enforcement". He stresses community service and responsiveness as one of his department's top priorities. "We want to hear from the community, they are our partners in this journey."
Learn more about the VPD three-year Strategic Plan, and download a copy in English or Spanish, online at www.CityofVentura.ca.gov/VPDStrategicPlan.