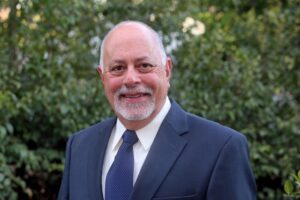 Dr. Bill Saleebey, Ventura author and networking expert, will be signing and discussing his new book Networking in the Virtual Age: Connecting with No Limits on Saturday, February 26, from 3-7 p.m. at House of Rio Design Co., 1718 E. Main St. in Ventura.
Dr. Saleebey is a foremost expert on the topic of business and personal networking. He is also the author of Connecting: Beyond the Name Tag and Connecting: Key Networking Tips for Business and Life. He organized and leads numerous networking groups throughout California. He has written the books Sell Yourself and Study Skills for Success.
His recent work Networking in the Virtual Age: Connecting with No Limits was written during the pandemic and chronicles how networking groups, service organizations and other groups managed to nurture interpersonal connections when people were unable to meet in person. He examines such technologies as Zoom and provides numerous examples and suggestions about how to connect virtually on multiple channels, as well as in person.
Saleebey, a native of Pasadena and graduate of UCLA, has been a resident of Ventura for eight years. His doctorate in Educational Psychology has allowed him to train and guide businesses about how to use networking to build and sustain their referrals.
In addition to his extensive experience in networking, Dr. Saleebey has been working in the field of corporate relocations for forty years. Prior to that, he did research on the educational challenges of Samoan migrants, based on his work in American Samoa.
Dr. Saleebey will discuss the impetus for writing the book, some examples of how people and groups adapted during the pandemic, and the current state of the art of networking. Anyone interested in networking and how to better connect with others are invited to attend.