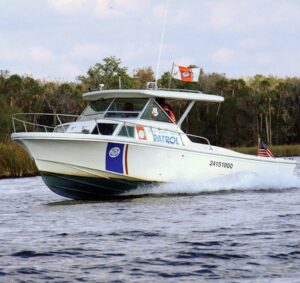 Beginning January 1, 2022 all recreational boaters 45 years of age or younger are required to obtain the California Boater Card. The card is issued by the California State Parks Division of Boating and Waterways. All boat operators must take an approved boating safety course prior to applying for a Card. If you are interested in an exciting, in depth boating safety course approved by the State of California and the National Association of State Boating Law Administrators, check out the Boat America boating course taught online by the United States Coast Guard Auxiliary (USCGA).
The 8 -hour online conference course will be held on Saturday January 29, 2022, 8:30am. Boat America is a boating certificate class that offers an in-depth and interesting boating safety course, and provides the knowledge needed to obtain the Boater Card. Taught by certified instructors from the Ventura County division of the Auxiliary, the class covers
Introduction to Boating, Boating Law, Boat Safety Equipment, Safe Boating practices, Navigation, Common Boating Problems, Trailering, Storing and Protecting Your Boat, guidelines for Fishing, Water-skiing and River Boating.
Many boat insurance companies will offer discounts on boating insurance to boaters who successfully complete Boat America. The USCGA is the uniformed volunteer component of the United States Coast Guard. The main mission of the Auxiliary is assisting in marine safety and environmental protection, recreational boating safety and education, while acting as a force multiplier in support of Coast Guard authorized missions. The January 29, 2022 class costs $25.00, which includes textbook and USCGA Certificate. For more information and to register contact Patrick Newburn, Flotilla Commander [email protected] or (818) 388-2796