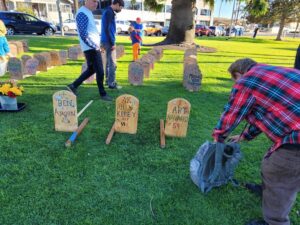 This year there were two interdenominational memorial Longest Night ceremonies naming the 136 people who died without shelter throughout Ventura County from the end of 2020 to 11/20/2021. One hundred and eight died without shelter in 2021 from January to November 2020.
The Unitarian Universalist Church of Ventura has hosted a memorial event for 15 years. In 2020, they were unable to host a public event and purchased an obituary where 76 people's names were listed. That year, the Oxnard Commission on Homelessness organized an interdenominational virtual service with the reading of the names.
This year Longest Night services were held in both Ventura and Oxnard. The Ventura event was at Plaza Park on Saturday, December 18. It was followed by a silent march downtown.
The Oxnard event was at Oxnard's Plaza Park on Sunday, December 19, and included a memory box where people can write their memories and deposit their thoughts of their loved one.
This year UUCV/ Lift Up Your Voice to End Homelessness and Oxnard Commission on Homelessness obtained the list of deceased homeless people from the Medical Examiner and some of the social service providers. Roy Foster and several others from LUYV created a tombstone display with all the names. There are many people who we do not know of their circumstances and will not be mentioned. Sometimes their family will take them in during the last weeks or months of their life. Some die in the hospital or in respite care and are not counted. We know many fall through the cracks and are not recorded as dying without shelter.
Roy Foster came up with the idea of the headstones about 5 years ago.  The three wooden markers are friends who died this year.  Roy is housed but lived on the street for a while.  Two years ago his brother (Don Baker) died on the street.
Jill and Tom Ball provided music for the event. Three youths and their advisors from Unitarian Universalist Church of Ventura served snacks. Irene Johnson managed the clothing give away.
Reading the names of the deceased were Rabbi Lisa Hochberg-Miller from Temple Beth Torah, Rev John Forrest Douglas from  Church of the Foothill , Rev Bonnie Rose from Center for Spiritual Living as Rev. Dana Warsnop rang the bell for each name.  Cantor Robin Faigin called all to prayer.