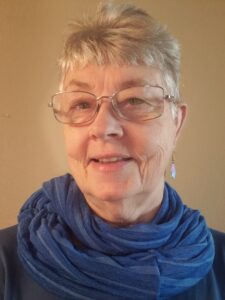 by Carol Leish, MA
By being involved in theatre and art, to name two of her talents, Shirley Lorraine is definitely a woman of many talents! Through dancing, acting, and being artistic, too, Shirley displays her creativity.
Lorraine got started in theatre with the Plaza Players in Wagon Wheel Junction, here in Ventura County, in 1968, when she was still in high school. She graduated from Ventura High and Ventura College.
Through getting involved in the formation of several theater companies in Ventura County, Lorraine said that she was involved in all aspects of theatre. "This included being an actor, costumer, make-up artist, choreographer, a director and whatever else that was needed. I had a custom theatrical costuming business: 'Show Clothes,' for a number of years. Even though it was low paying, it was truly a labor of love."
Shirley said, "As a dancer, I was a member of the Pure Joy, the Mackinnon Dance Academy performance group. I was an 'unofficial' mime for the City of Ventura's First Sunday in the Park for many years."
"With my late husband, Jim Spencer," Shirley said, "we had a theater review column: "Two on the Aisle" for the 'VC Reporter' for over 12 years. We also instituted REP (Reporter Excellence in Performance) awards for county theaters. We wrote theater reviews (and more) for the 'Ventura Breeze' for about 10 years (solo for last 5, following Jim's passing). Over a span of 30 years, the only actual stage performance we did together was 'Love Letters' for the Camarillo Theatre."
"In regards to magic," Shirley said, "I was encouraged by Jim to incorporate magic with the mime that I was already doing. This led to a solo stage performance and several awards. We formed Spencer/Lorraine Entertainment in 1988. We were also members of the Academy of Magical Arts (Magic Castle). I did Entertaining card and crystal readings as Lady Lorraine (not Tarot). Now, I only perform occasionally."
Besides her acting background, Lorraine worked for the American Cancer Society, and a pediatrics office in Oxnard. She also enjoyed retail work for fine jewelry in Mervyn's.
Shirley worked at the Tri-Counties Regional Center for the Developmentally Disabled for 23 years, beginning there as a medical secretary. She retired as a Facilities and Purchasing Manager. She was instrumental in orchestrating numerous moves for six offices located from Simi to Atascadero.
Lorraine also worked as a teacher at the Santa Barbara Business College (SBBC), Ventura campus, for 11 years. "I was awarded the Teacher of the Year in 2011. I taught classes to students in the Medical Front Office program. These classes included: medical terminology; office procedures; billing and insurance; and more. Sadly, SBBC is now closed."
Lorraine has been involved with several networking, arts, and community focused groups in Ventura County. She's been involved with the San Buenaventura Women's Club for 16 years, serving on the board for most of them, and is currently President-Elect. She's also a Distinguished Toastmaster.
"Since I'm continuously learning," Lorraine said, "I'm glad to be involved with Just4FunCreations-by making jewelry and framed art using vintage and broken jewelry. I write cowboy poetry, and won the Ventura County Fair cowboy poetry contest one year, and placed 2nd another year. I have also performed at cowboy gatherings."
Thus, the woman of many talents continues to be active and creative.