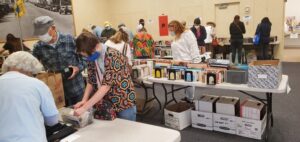 by Jill Forman
People still love books! (and bargains)
Book sale a big success
On Saturday morning the 6th, before the sale even started, booklovers were pouring in the doors of the Foster Topping Room and checking out the children's tables outside the library. Hundreds of folks came through, many with boxes and folding carts, looking for bargains. At $4 a bag ($3 for Friends members) there were definitely bargains to be had.
The Friends are fortunate to have Venturans donating literally tons of books; we sort through every one and categorize them. Every once in a while we need to clear out our warehouse, and have what we call a "Bag Sale." Every genre is offered, at prices readers can't resist. In fact, the workers always have a stack hidden somewhere for them to buy after we are finished working. You'd think we'd be sick of looking at them…nope!
Our goals for all sales are to raise funds for the library, to reach out to the community and inform the community of all the events and services the libraries have to offer, and to get books in the hands of people who will appreciate them. We made over $700 this sale, an amazing amount considering the pricing.
Thanks to Foster's staff, Boy Scout Troop 155, and all our exhausted volunteers. A special shout-out to David Bayer, Clyde Hofflund and David Young; without their strong backs and trucks this sale would not have been possible.
Library Happenings
Here's something I just found out about, one more service the library offers:
Mobile Career Center, Foster Library on Monday, November 29, 11am to 5 pm.
Staff can assist with resumes, applications, training, and more.
This project is supported in whole or in part by the U.S. Institute of Museum and Library Services under the provisions of the Library Services and Technology Act, administered in California by the State Librarian.
Event updates:
The irrepressible Ukulele Jam returns to the Topping Room.
Mondays, 7:00 to 10:00 p.m

Virtual Open Mic Thursdays, 7:30 to 10:00 pm. Free and open to the public! Virtual Open Mic night hosted by Phil Taggart. Enjoy a featured poet, then share your own work with the group. All are welcome to just sit and listen as well.  https://us02web.zoom.us/j/9607501600
Meeting ID: 960 750 1600
Fall Reading Challenge:  
October 4 – December 17, 2021
Read books, earn activity badges, and win prizes! Kids and adults! Register at  https://vencolibrary.beanstack.org/reader365
December book discussion groups:
Foster: December 4, Crescendo by Allen Cheney. Topping Room, 10 a.m.
Hill Road: November 30, The Book of Longings by Sue Monk Kidd. 5 p.m.
Teen Volunteers:
Opportunities for those 13-17 include in-person and virtual environments. Teens research and recommend books for library purchase, recommend websites for teens, and help develop Summer Reading Challenge, STEAM, and Makerspace activity ideas. To begin the application process, fill out an application at a branch or email [email protected]