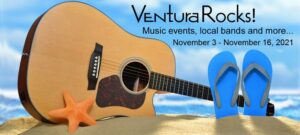 by Pam Baumgardner
VenturaRocks.com
I had to think long and hard to figure out the last time I took off two weeks for a real vacation and honestly, I couldn't think of a single time! I'm back newly refreshed from Italy where I avoided the news, I was without social media, in fact, I didn't even bring a laptop! So now I'm ready to take in live music again, and thankfully there is plenty to be had!
Let's start with the next Chick Singer Night (CSN) which will headline Rosemary Butler at the Sound Palace/Studio B on Saturday, November 6. Butler has not only opened for the Rolling Stones with the Ladybirds in 1964, but she went on to be a backup singer for the likes of Bonnie Raitt Linda Ronstadt, James Taylor, Warren Zevon, Neil Young, Boz Scaggs and more! This one helps benefit Foodshare of Ventura County and will also feature performances from Melanie Taylor, Kiki Ebsen, Natalie Gelman and Michael Henszey.
I took a look at the Carolyn Sills Combo tour schedule and I have to admit, it is impressive with dates starting up in July playing gigs up and down California, Colorado, Illinois, Kentucky and Missouri. Then I took a look at all the impressive quotes about the band, well if you're into Americana Folk, you won't want to miss their date at Namba Arts on Saturday, November 13. Named Academy of Western Artists Western Swing Female of the Year in 2021, the 2020 NEXTie band of the year, and 2018 Ameripolitan award winner, you know you'll get your money's worth! You'll need proof of vaccination or Covid test to enter; tickets are only $20.
John Batdorf whose credits include singing lead on Silver's "Wham Bam" which appeared in Guardians of the Galaxy Vol 2 in 2017, will play the Ojai Underground on Friday, November 5 and then with 12 albums under their belt, recording and touring since the mid-80s, Marleys Ghost will play the following night, Saturday, November 6.
The Canyon at Oxnard Performing Arts Center has several shows lined up in the next week or so starting with a Holiday Spectacular from Cirque Musica on Thursday, November 11, it's Lisa Lisa & Trinere on Friday, November 12, then on Saturday, the 13th, it's Lou Gramm of Foreigner with Asia featuring John Payne. The OPAC also continues to host R&B Sundays on the patio with the House Arrest Band from 1-4 pm.
And in the battle for best dive bar, Gigi's is offering up live music with Teenage Bottlerocket and the Last Gang on Friday, November 5; and the following week it's Bone Maggot, I Greater than He, Seconds to Centures and Glass Stab on Saturday, November 13. Both shows have a cover charge at the door.
Quick Notes: West Side Story is now playing at the High Street Arts Center in Moorpark through November 14; Cadillac Zack presents Nick Schnebelen at Cantara Cellars on Friday, November 5; The 805 Brass and Los Padres Sound Horn Quartet play Libbey Bowl on Sunday, November 7; and the Doug Webb Quartet featuring Jimmy Haslip from Yellowjackets will perform at the Grape on Wednesday, November 10.
Do you have any music-related news or upcoming shows you want help publicizing? Please send all information short or long to [email protected], and for updated music listings daily, go to www.VenturaRocks.com.