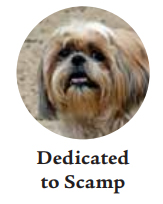 ∙ SPAN Thrift Store is now open to the public and looking for donations of adult clothing, household items and tools if you've got items you no longer use.
SPAN Thrift Store is providing $10 spays and neuters for low income households with cats and dogs.
Two upcoming clinics are:
Tuesday, November 9th at SPAN Thrift Store parking lot 110 N. Olive St. (behind Vons on Main), and a second at Albert H. Soliz Library – El Rio, 2820 Jourdan St., Oxnard, 93036 on Tuesday, November 16th.
Please call to schedule an appointment (805) 584-3823.
∙ Jackie Rose Director VCAS stated "I am excited to announce that the Simi Valley Animal Shelter is, once again, fully open for all business, including pet adoptions! I am equally pleased to report that pet adoptions have steadily increased to match the expected rise of stray animals coming into our care."
"As a reminder, adoption hours are 1:00pm – 6:00pm, Tuesday – Sunday, at both the Camarillo and Simi Valley locations. We encourage everyone to preview our dogs, cats, rabbits and other critters online prior to your visit. Also, please take a moment to review our new and improved adoption process which employs text messaging to reduce wait times and long lines."
"Our staff and volunteers are here to answer questions and help make the best matches possible! Thank you for your continued support of our lifesaving efforts!"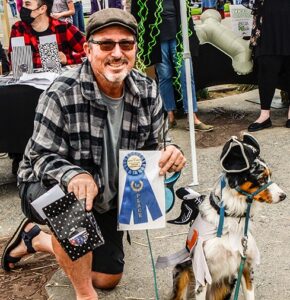 ∙ On Saturday, October 30, the HOWL-O-WEEN Dog Costume Contest was held in the Ventura Harbor Village for the first time since COVID. Over 70 adorable dogs participated, and every dog received a small goodie bag of pup prizes, plus five lucky dogs that were selected the most spookiest, most sea-worthy, cutest-prettiest, most creative and best in show took home grand prizes for winning their category including gift certificates from restaurants in the harbor including Margarita Villa, Le Petit Cafe, The Greek, Andria's Seafood, Brophy Bros. and the Sugar Lab Bake Shop. The very large enthusiastic crowd roared their approval as each dog walked around the ring.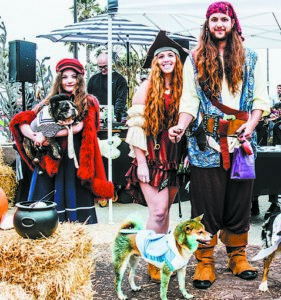 The dog entries went from Shiba Inus to Chihuahuas to most every other dog breed. Even a goat was entered but stayed home to eat more cans.
The judges, Breann Godeck from Coastal Cone, Sheldon (you know who that is) and TJ Mora from the Pet Barn had a very difficult time selecting the winners but managed to make their selections without getting into any fights.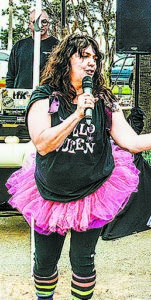 Stacey Petrides was the outstanding MC (as she is every year) for the event and carefully called out each dog's name and breed as they passed by and briefly interviewed each dog's owner.
Music was provided by DJ Bennett as he played music that corresponded to the theme of the dog's costume.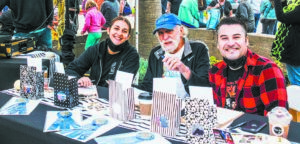 The judges were Breann Godeck, Sheldon Brown and TJ Mora. All photos by Richard Lieberman