The event was spearheaded by the Women's March national organization. Photo by Patricia Schallert
The Supreme Court signaled it is prepared to dismantle women's reproductive rights when it refused to stop Texas' SB 8, which made abortion illegal after six weeks and instituted a bounty system on violators. On December 1st the Court is scheduled to hear Dobbs v Jackson Women's Health Organization, a Mississippi case which prohibits abortion after 15 weeks.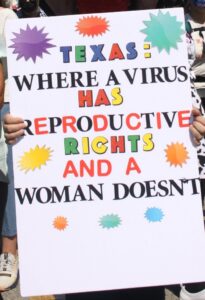 "Roe v Wade is under attack like never before in its 50-year history," said Miriam Mack, Justice For All Ventura County Board Member. "Our march, along with marches in over 600 communities across the country, is intended to show the Court that a woman's right to control her reproductive destiny is a human right that must be protected."
Hundreds of Ventura County women (and men) marched on Saturday, October 2, at noon at Ventura City Hall. Marching were Justice For All Ventura County, along with the Ventura County Reproductive Rights Network, Planned Parenthood, Indivisible Ventura, Women United for Change and others. They marched to the State Court of Appeals Building at Santa Clara Street and Figueroa Plaza.
The effort is spearheaded by the Women's March national organization and is intended to send a message to the Supreme Court that 77% of the country wants to preserve the protections of Roe v Wade and state legislative actions to limit that right cannot stand.
The march was disciplined and peaceful and the signs sent a clear message that the protections of Roe v Wade must be preserved.
For more information go to https://justiceforallvc.org/.