Deborah Jordan Ph.D. EPA Deputy Regional Administrator, City Manager Alex McIntyre, Councilman Joe Schroeder, Congresswoman Julia Brownley (D-26th District), EPA Administrator Michael Regan and Ventura Mayor Sofia Rubalcava, and were part of the treatment facility presentation
by Sheli Ellsworth
The Sons of the Pioneers recorded the melodic song "Cool Water" in 1962: All day I face the barren waste without the taste of water, cool water . . . . Seventy-five years later, Ventura will face the same challenge. With the current system, demand will outpace the city's water supply by 30% as early as 2035.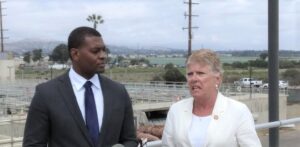 A recent press conference and tour of the Ventura Water Treatment Facility with Congresswoman Julia Brownley (D-26th District) and EPA Administrator Michael Regan introduced Ventura Water's plan for avoiding the upcoming water shortage. "It's important to get out from behind the desk in Washington, D.C., and see what's happening on the ground," Regan said. "And looking at the innovation and the creativity it takes to develop these aged facilities in a way that can withstand some of the pressures we're facing today." Ventura Mayor Sofia Rubalcava, City Councilman Joe Schroeder and City Manager Alex McIntyre also attended the event.
The two-part plan includes: tapping into state water and recovering, treating and reusing water that is currently discharged into the Santa Clara River Estuary.
Sound simple? Ventura Water has been planning and researching for over a decade to make the city's future water usage sustainable, environmentally friendly and regulatory compliant. They have met with over 25 legislators and lobbyist looking for funding. They have operated a demonstration facility for nine months and have made four annual trips to Washington, DC to meet with Congress members and Senators. They have reached out to the community through facility tours, open house events and received national EPA recognition for their efforts.
Climate change and the worsening drought bode poorly for the future of Ventura County. Ventura County is the "fastest-warming county" in the lower 48 states, Brownley said, referring to a 2019 survey by the Washington Post. August 19 maps from the U.S. Drought Monitor show most of Ventura County in exceptional drought—the most severe category.
Since 1971, the city of Ventura has owned the rights to a 10,000 acre foot a year of water (3.259 x109 gallons) via the California State Water Project. The proposed State Water Interconnection Project would improve the movement water from rainfall-rich Northern California to drier local areas. The seven-mile pipeline to deliver water from Calleguas Municipal Water District systems in Camarillo to the City of Ventura will cost approximately $50 million.
Judge water by its quality, not by its history—Ventura Water
he process of recovery, treatment and reusing water is a complex series of filtration. From sewage to potable water is forward-thinking leap of technology known as VenturaWaterPure. The proposed advanced water purification facility (AWPF) would: biofiltrate, ultrafiltrate, reverse osmose, UV and oxidate treat our wastewater then inject it into groundwater basins like the Oxnard Basin. Extractions would occur as needed and extracted water is "conditioned" before being released to the community at drinking water quality standards. Reuse at its best. The advanced water purification facility needs to be implemented in the next six years to meet water supply needs.
The current plant on Spinnaker Drive in the Ventura Harbor, which treats eight to nine million gallons of wastewater per day, was built in 1955 and had has undergone several improvements through the decades. Ventura Water General Manager Susan Rungren said construction on the new facility will begin in November 2023 at a price tag of about $260 million. The Senate-approved trillion-dollar infrastructure bill, which includes funding for water projects, may help fund the project if the House of Representatives passes the legislation.
According to a CNN article by Kieron Monks in 2015, toilet-to-tap is not new although the thought might disgust some. Orange County Water District (OCWD) recycles used water and returns it to the drinking supply and is expanding production to 100 million gallons per day, enough for a third of the population or 850,000 people.
The website southeastasiaglobe.com wrote in 2014 that Singapore began working on recycling water in 2003 and now a third of the waste water produced by its 5.7 million inhabitants is treated. Thirty miles of tunnels transports the sewage from residential areas to huge treatment facilities where about 72,345,000 gallons of "new water" is produced each day.
What about the taste? Researchers at the University of California, Riverside published a study of recycled wastewater in 2018 that focused on the taste. The UCR study asked 143 people to compare treated tap water (IDR) with conventional tap water and commercially bottled water. The waters were presented in similar cups and were unlabeled. After tasting the water, participants ranked the taste, texture, temperature and smell. Mary Gauvain, a professor of psychology at UC Riverside and co-author of the study reported that groundwater-based water was not as well liked as the indirect potable reuse (IDR) or bottled water. "We think that happened because IDR and bottled water go through remarkably similar treatment processes, so they have low levels of the types of tastes people tend to dislike."
Water is essential for life on earth. Whether or not Ventura is blessed by rain, a sustainable, environmentally friendly way of reclaiming quality water is imperative for each and every citizen.
The time is now.