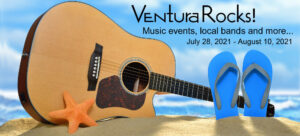 by Pam Baumgardner
VenturaRocks.com
You know the music scene is alive when large venue events sell out; such was the case for the Tequila and Tacos Music Festival over the weekend of July 24 & 25 with Vanilla Ice, Tag Team and Ozomatli performing. I will concede, the beverage of choice may have been the driving force behind the ticket sales, but the stage was rockin' and that's always a cool thing. Next up for Surfer's Point Live (Fairgrounds' parking lot), Scotty McCreery & Rodney Atkins on Friday, July 30, and then the Spencer Makenzie's Throw Down Cornhole & Music Festival over the weekend of August 27-29 with Mandex, Dave Rea & the Acoustic DNA and three tribute bands covering the music of AC/DC, Journey & Guns & Roses. For more details and ticket information, go to SurfersPointLive.com.
I'm also happy to see the Ventura Theater lining up shows and the first one is one you should seriously think about seeing. Not only is Lukas Nelson son to Willie, but he collaborated with Bradley Cooper on A Star is Born, and his band IS the band in the movie. The band's brand of Country Rock is a fun vibe and the talent is stellar, so you won't want to miss Lukas Nelson & Promise of the Real on Thursday, September 9.
More show at Ventura Theater:
The End of Summer Lockdown Tour – Friday, September 10
Mon Laferte – Wednesday September 22
Drakeo the Ruler – Friday October 1
Black Label Society: Doom Trooping over North America tour – Saturday, October 2
Yung Bleu – Tuesday, October 5
Pennywise w/ Dead Kennedys – Thursday, October 7
Pennywise w/ Strung Out – Friday, October 8 (sold out)
Elefante, Inspector – Friday, October 15
The Struts – Tuesday, November 2
GWAR – Tuesday, November 23
The Dead South – Tuesday, December 7
The Slackers – Friday, December 10
The Hueneme Beach Festival falls over the weekend of August 28 and 29, and I was looking over their impressive line-up of artists performing both days and was delighted to find out this one is also free to the public. Saturday features LAW, Fausto Cuevas y La Moderna, and Ozomatli, then on Sunday it's Diggin Dirt, Arise Roots and Think:EXP. I love that the organizers put so much thought into their lineup, and so, just in case you didn't know, a little bit about a few of the acts performing:
Fausto Cuevas is that caliber of musician that tours with Stevie Wonder's band, most recently the 2014-2016 during the Key of Life world tour, though he's performed previously with Stevie Wonder at the 2008 Democratic National Convention and at the 25th Anniversary of the Rock n Roll Hall of Fame at Madison Square Garden in 2009. The man is that good, and the grooves he lays down are immediately infectious so prepare to dance.
Ozomatli performed a few years ago during the Ventura Music Festival and more recently in July at the Tequila and Tacos Music Festival at Surfer's Point Live. The six-piece band plays primarily Latin, hip hop and rock music and has quite the following, and again, prepare to dance.
Think:EXP is a supergroup with members Scott Page who has worked with Pink Floyd, Supertramp and Toto, Stephen Perkins of Jane's Addiction & Porno for Pyros, Kenny Olson of Kidd Rock and Norwood Fisher of Fishbone. The website, www.thinkesp.co describes the group, "Think:EXP strives to revolutionize the entertainment industry by bridging the gap between the human spirit and technological innovation with one-of-a-kind live, immersive concert experiences." That certainly piques my interest!
Quick Notes: Tickets are now on sale for the Ojai Music Festival; The Garage on the east end of town took advantage of the pandemic downtime and now has a new look; Spencer the Gardener will return to Winchesters on Sunday, August 8 with their brand of fiesta party music; and Nardcore Tuesday nights continue at Rock & Roll Pizza in Camarillo with Bootleg Brigade and Last Point on August 3, and Sick Boy on August 10.
Do you have any music-related news or upcoming shows you want help publicizing? Please send all information short or long to [email protected], and for updated music listings daily, go to www.VenturaRocks.com.