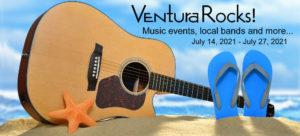 by Pam Baumgardner
VenturaRocks.com
It's easy to forget just how therapeutic live music can be. Music affects us, it affects our moods, and it can even change our outlook from grim to optimistic. If you're stressed out, say for instance after having endured a world-wide pandemic and you could use some help easing back into being a social being again, then I highly recommend getting yourself out to enjoy live music. The genre is your choice of course, as it's so subjective.
But you can't go wrong with Big Bad Voodoo Daddy. They'll be performing on Saturday, July 17 at Libbey Bowl, along with Dr. T. & the Blues Criminals. Tickets start at $28. And speaking of the Bowl, other dates include Grateful Shred on July 16, Blue Oyster Cult on July 23, Little River Band on August 7 and Ambrosia, John Ford Coley, and Peter Beckett of Player on August 22.
Back in the day I use to enjoy the music events at Zoey's that were billed as "music in the round" meaning a number of artists would share the stage and take turns showcasing their original tunes with the other artists backing them up. So, I can only imagine that will be the same case scenario when the Ojai Underground features "Women of Americana" on Friday, July 16th. The live performance/broadcast live stream will feature the talents of Pi Jacobs, Manda Mosher, Celia Chavez and Arielle Silver. I trust Silver will choose selections from A Thousand Tiny Torches, her most recent release. According to her website, the album is an Americana Highways favorite album of 2020 and has been recognized in the numerous prestigious songwriting contests including International Songwriting Competition (ISC), Great American Song Contest and Music City Song Star. All four of these women are prolific singer/songwriters who will share the back stories on their carefully chosen musical selections. Two more shows at the Ojai Underground this week include Kelly's Lot on Saturday, July 17, and a special concert with Ojai's own, Perla Batalla on Sunday, July 18. More information and ticket information can be found at OjaiArtsExchange.com/underground.
Medicine Hat was ready to roll out their most recent release, Fences, when the pandemic hit, so that was put on hold. But now Robert Ramirez and Michelle Votrian have decided to have a "better late than never" record release party on Sunday, July 18, at Winchesters. CDs will be available along with a limited-edition version of their record on translucent orange vinyl.
Tequila & Tacos Music Festival will be held over the weekend of July 24 and 25 at what is being called Surfer's Point Live, which is better known as the Ventura County Fair parking lot, the same location where Concerts in your Car were held. The Saturday date will feature the rescheduled Vanilla Ice and Tag Team show, along with Adelaide. Sunday they'll have a tribute to Selena & Latina artists.
Don't forget the Ventura Music Festival limited edition this year is a 100% vaccinated event. You'll need to upload "proof" of your vaccination when ordering tickets in order to provide as safe an event as possible for their 2021 program. July 23 is Aubrey Logan, July 24 is Time for Three and July 25 it's Andrea Roberto. All three concerts will be held at the Pacifica High School's Performing Arts Center. Go to VenturaMusicFestival.org for ticket information.
Quick Notes: Tuesday Blues Days are packing in the dancers at Copa Cubana in the Ventura Harbor, this month they feature Shawn Jones and other artists; Bobby Hart & Friends play Winchesters on Thursday, July 15; this month's Dinner & Music show at Caffrodite will be the jazz duo of Tom Collins & Tom Etchart on Friday, July 16; in honor of Buena High's reunion weekend, the Funnels and Johnny Knows No One will be jamming on Friday, July 16 at Vaquero y Mar; the Jackson Jones Trio plays Manhattan of Camarillo on Friday, July 16; there's a free concert at Peninsula Park in the Channel Islands Harbor featuring Psychedelic Summer performing the music of the 60s & 70s on Saturday, July 17; Ray Jaurique solo release, Soul Remedy, drops July 17 with a CD release party at Cantara Cellars; and it's a night of deep Samba Brazilian music at Namba on Saturday, July 17 with Francisco Leon.
Do you have any music-related news or upcoming shows you want help publicizing? Please send all information short or long to [email protected], and for updated music listings daily, go to www.VenturaRocks.com.