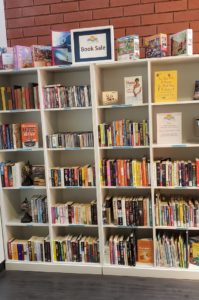 by Jill Forman
Apology and Correction
The Barbecue for the July 31 book sale will be provided by the Ventura Downtown Lions. The Lions have been so helpful to the Ventura Friends of the Library at book sales for years, providing "person power" when we need it most. My apologies to the Lions for misstating the organization in my last column, and thanks for all the hard work!
Bookstores back in business
The Foster Friends of the Library bookstore has moved to a larger area on the first floor of the library. Open 11:00 a.m. to 4:00 p.m. Tuesday-Saturday. More books, great bargains, nice open shelves.
Hill Road Friends of the Library used book sales are also open. Gently used books of many genres, low prices with an honor box for payment. Open all library hours.
Online bookstore still going with a more selective inventory. Pickup for now will be at the Foster bookstore.
Remember that all purchases support your Ventura libraries! The Friends of the Library help with book purchases and programs.
Volunteer opportunities: We need folks to staff the Foster bookstore. We would also like to have someone at Hill Road for a couple of hours once a week, to hand out online orders. If you are interested: [email protected].
Summer Friends of the Library Book Sale and Community Event
Saturday July 31, 9 a.m.-3 p.m. Sunday August 1, noon-3 p.m.
Dudley House Museum, 197 North Ashwood Avenue (at Loma Vista.)
On Saturday there will be a plant sale 8 a.m.-2 p.m., and a hot dog barbecue provided by the Ventura Downtown Lions 11 a.m. – 2 p.m ($5 for hot dog, chips and bottle of water.).
On Sunday 1 p.m.-4 p.m., free tours of the Historic Dudley House and Museum.
Lovely setting, great book bargains, summer food, museum tour, plants…be sure to join us. Even if you just want to come by and join the community in celebration.
Book groups at Foster and Hill libraries
Both are returning to in-person discussions.
Foster meets the first Saturday of the month 10-12. August's book is The Roundhouse by Erdrich. Information: [email protected].
Hill Road meets the last Tuesday of the month at 5 p.m. August's book is I'll Be Gone in the Dark by McNamara. Information: [email protected].
Summer Reading Challenges
Register: https://vencolibrary.beanstack.org/reader365
Create a profile for each family member.
Log reading minutes or books, complete activities, earn badges, and become eligible for prizes.
Ongoing Library Events
Minecraft Mondays – 4:00 to 5:30 pm. [email protected]
Storytimes – Stories and songs every Monday and Saturday at 10:30.  Visit Ventura County Library's Facebook page and the live video will automatically start.
Globetrotting Storytime – Mondays for stories and songs with an emphasis on world view.
Bedtime Stories Live Join Ms. Mayra for bilingual bedtime stories Mondays, 7 pm.
Art Lessons Live – Wednesdays, 3:00 p., Miss Kat will show you how to draw a different children's book character. Bring your favorite drawing tool and a piece of paper. Visit the library's  Facebook page and the video will automatically start.