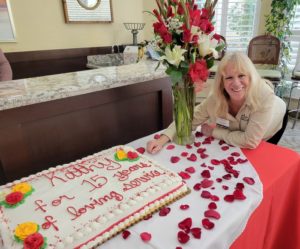 As far back as nine years old, Kathy Sullivan remembers admiring the older generation and feeling as though they were responsible for teaching her to become the best person she could be. She found herself baking cookies and taking them to lonely neighbors, and listening while they shared their life stories. Today, she continues to impact the lives of seniors in tangible ways.
Sullivan is a front desk concierge at Cypress Place Senior Living in Ventura, a senior living community catering to independent living, assisted living, and memory care residents. She has been with the community for 15 years.
On a recent Friday afternoon, the residents and staff and Cypress Place celebrated Sullivan's 15 years of service to the community with a surprise anniversary celebration. She stood speechless as she walked into the community's fireside lounge where she was greeted with applause by both residents and staff members alike.
"Everyone here has benefited from her amazing kindness," said Marion Doane, one of the residents who helped coordinate the surprise along with the Cypress Place management team. "No matter how long you have lived here, whether it be one day, or ten years, you will have been touched by her infectious smile, her kind heart, and her giving spirit."
The touching celebration brought tears to Sullivan's eyes as she recounted how at one point during her employment, a car accident kept her away from the community for about three months.
"When I was recuperating in my home after my car accident, the residents had a lot to do with me getting better," recounted Sullivan. "I would receive cards and notes all throughout my recovery from the residents. I will always be so grateful for those notes because I knew I needed to get back to the residents. They played a huge part in my recovery."
Sullivan says she loves meeting and greeting the residents and their families daily. Being attentive to their needs, helping each resident feel accomplished, smiling, and always being kind, are her daily mottos, because the residents deserve it according to Sullivan.
"You are beloved by all the residents, as well as all your co-workers," said Gina Salman, executive director at Cypress Place. "You are the foundation for the experience we strive to provide our residents here at Cypress Place."
Colleen Webb, Cypress Place Senior Living associate executive director, was equally as effusive. "Thank you, Kathy, for your loving heart these past 15 years. We look forward to many more years together."
Cypress Place Senior Living is a premiere independent living, assisted living, and memory care community in the city of Ventura. For more information about Cypress Place Senior Living located at 1200/1220 Cypress Point Ln Ventura, visit www.cypressplaceseniorlivig.com or call 805-650-8000.