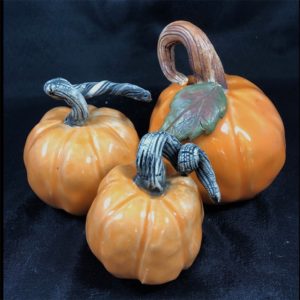 The artists of Ventura Pottery Gallery in Ventura Harbor invite you to stop by May 8th or 9th from 11-6 to pick up a special token of appreciation for your favorite mother. To show our appreciation we will provide fresh flowers for the first ten purchases (each of the two days) of a hand-made vase from the gallery. While the traditional flower for Mother's Day is a carnation, all sorts of flowers will be available. The gallery is teaming up with florist Suzan Matsukawa to fill your hand-made vase.
Gallery artist have been busy making one-of-a-kind vases for that one-of-a-kind mother. There will be a special outdoor exhibit of vases or step inside the gallery to explore other ceramic creations.
In addition, there will be demonstrations by potters Rebecca Catterall (Sat 11-2), John Grisafe (Sat 2:30 – 4) and Suzanne Cline (Sun 12-2). Watch the magic as the clay transforms from a lump to an elegant vase!
Register inside the gallery by the end of the day Friday, May 7 to win a hand-made vase by ceramic artist Ellen Wohlstatadter with a faux floral arrangement created by floral designer and artisan, Suzan Matsukawa. Winner does not need to be present to win. 
The Ventura Pottery Gallery is located at 1567 Spinnaker Drive, Suite 105 in Ventura Harbor. The Gallery is open seven days a week from 11-6. We also have an online store for those who can't make it to the harbor. For more information visit www.venturapottersguild.org.