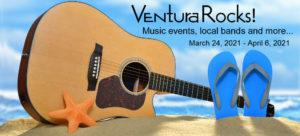 by Pam Baumgardner
VenturaRocks.com
Spring has sprung and with warmer weather on the horizon, it will be a lot more comfortable supporting live music outdoors at such venues as Winchesters, Leashless and the brand new Vaquero y Mar (formerly the Hong Kong Inn). Along with the venues of course are the drive-in style concerts where you can stay in your car, or just outside on folding chairs. For all the latest listings please visit VenturaRocks.com for the daily updates.
And speaking of drive-in concerts, after a winter hiatus, both Concerts in Your Car (Ventura Fairgrounds) and the Canyon at the Oxnard Performing Arts Center are both ramping up with shows schedule in April. Concerts in Your Car has Don Pasquale from Opera Santa Barbara on April 10, Ziggy Marley on April 17 and Hippie Sabotage on April 24. Canyon Club dates are all tribute bands such as 4NR on April 2, Robert Plantation on April 3, Strange Days (Doors) on April 9 and Erotic City (Prince) on April 10.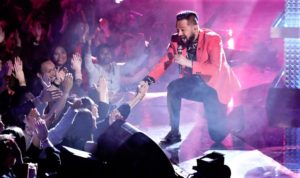 Meanwhile, I caught up with Will Breman who appeared on NBC's The Voice just before the pandemic hit where he made it all the way as a semifinalist on Season 17. Will calls the Central Coast home and is currently ramping up for post-pandemic shows.
Pam: What has been the biggest impact to you personally and professionally this past year during the pandemic?
Will Breman: The hardest part of the pandemic last year was cancelling all of my national tour dates. Especially after coming immediately off of a show like NBC's The Voice, that hit hard. I had to figure out very quickly how to make up for a lot of lost income, as well as hold on to the wave I was riding from the show.
Cancelling a national tour had to be so hard! What else was put on hold?
Will Breman: I had to delay a lot of recording plans. I have a couple projects that I've been sitting on top of until recording them in a studio with a group was safer to do. Thankfully though I was fortunate enough to record one of the songs I did on The Voice last year in Nashville with some legitimate studio cats, so at least something got done.
What do you miss the most?
Will Breman: I miss hugging people a lot, especially my close family. I feel like people were a lot less anxious before the pandemic. I think what I miss the most however is being able to play regularly in front of people. Doing it on Zoom is just not the same.
How did you work during the past year (writing/performing/recording)?
Will Breman: I had to switch to a lot of virtual gigging. I'm thankful to have an amazing manager who set me up with a lot of awesome corporate gigs that I could record from home.
Anything good from the close down?
Will Breman: I was able to go back to school. I'm in my second year of my masters in vocal techniques/performance. Now if the whole singer-songwriter thing doesn't pan out, at least I know I have a career somewhere in opera or teaching at a higher academic level.
What are you most looking forward to doing again?
Will Breman: I'm looking forward the most to seeing, and playing, some excellent live shows. I know coming up I'm working closely with Kristen Stills and a wonderful team at Autism Speaks in hopefully setting up a festival at the Greek Theater in LA sometime in the fall. I'm also slated to open for Paul Thorn at the Lobero around that time, as well as playing Topa Mountain Music Fest. Hopefully there's more where that came from.
Do you have a game plan coming out of the pandemic?
Will Breman: I know I want to finish those recording projects I've been sitting on. I've been taking a break from social media lately, but I'm hoping soon to get back into creating some high-quality content for Instagram, Youtube, and TikTok specifically.
For more information on Will Breman go to WillBremanMusic.com or follow him on Facebook at www.facebook.com/WillBremanMusic. You can also look for Will on a future episode of the VenturaRockSpot.
Oh! By the way, the VenturaRockSpot is a monthly interview show where mostly local artists out of the 805 are interviewed and they share some of their music either live, or with pre-recorded videos. Will Breman is scheduled to be a guest soon. You can view all episodes to date at www.VenturaRockSpot.com where you can see bands/artists such as Star Goes Nova, Jayden Secor, Medicine Hat, Jodi Farrell and more (27 episodes to date).
And don't forget to tune into the Pam Baumgardner Music Hour on KPPQ-LP out of CAPS Media at 104.1 FM here in Ventura. My show airs Tuesdays at 5 pm with repeats on Fridays at 5 pm and Sundays at noon. You can also listen via the MyTuner app on your smart device or online at CapsMedia.org/radio.
Do you have any music-related news or upcoming shows (online or live) you want help publicizing? Please send all information short or long to Pa[email protected], and for updated music listings daily, go to www.VenturaRocks.com.