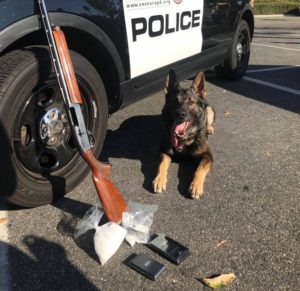 by Cindy Summers
Police reports are provided to us by the Ventura  Police Department and are not the opinions of  the Ventura Breeze. All suspects mentioned  are assumed to be innocent until proven guilty  in a court of law.
Narcotics Arrest
On February 12, at 12:30 pm, members of the Ventura Police Department SCU Narcotics unit conducted a traffic stop on a wanted subject, 27 year old Ventura resident Jessica Williamson, in the area of Victoria Ave. and Ventura Blvd. Her warrant was for transportation and possession for sale of a controlled substance.
During the detention and subsequent investigation, detectives discovered narcotics and evidence of narcotics sales inside Williamson's vehicle.
As a result of the investigation, Jessica Williamson was arrested for transportation and possession of methamphetamines, fentanyl, and heroin for sales.
A search of the Ventura County Superior Court shows that Jessica Williamson has prior arrests for providing false information to a peace officer, theft, commercial burglary, and narcotics possession, transportation, and sales.
Assault with a Deadly Weapon
On February 17, at approximately 6:30 pm, Ventura Police Department officers responded to the 800 Block of Thompson Blvd for a report of a man that had been struck with a stick. Officers located the victim, a 28-year-old male, bleeding from a laceration on his head.
Witnesses and corroborating evidence indicated that the victim had been standing outside of a business when he engaged in a verbal argument with the suspect, who then struck the victim in the head with a large stick.
The suspect, described as a white or Hispanic male in his 30's with long hair, fled and was not located. The victim was treated and released by paramedics at the scene.