Streaming Spotlight by Cindy Summers
Like a Boss
Epix & Amazon Originals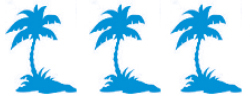 Mia and Mel were best friends since grade school and now 22 years later own their custom cosmetics business. The business had great online success, but after opening a storefront had been struggling financially to the point they may have to close their entire business. Quite by luck they get approached by Claire Luna, the owner of a major cosmetics company, to invest in their business but her intentions are not transparent and test their lifelong friendship.
Mia (Tiffany Haddish) and Mel (Rose Byrne) were basically inseparable since they were kids, even now as adults living together in the house Mia's mom willed to them when she passed away. After attending college they started their own cosmetic business Mia & Mel out of their garage. Mia was the creative cosmetics genius while Mel was in charge of the finances.
Claire Luna (Salma Hayek), owner of Ovieda Beauty Enterprises International, had been watching their business progress and sent her assistant Josh Tinker (Karan Soni) to inform them that she was interested in meeting with them and investing in their company. Claire's original offer to Mia and Mel was to cover their current debt of $500,000 for 51% of their company, but Mia refused so Claire changed the deal to 49% continent upon them maintaining their friendship.
Having been friends for so long, Mia and Mel said that nothing could come between their friendship, so took the deal not knowing that Claire (who believed from past experience that money damages friendships) planned was to drive them apart if they didn't end up doing to themselves. Claire immediately forced them to fire their cosmetic production specialist Barret (Billy Porter), who they not only had a longstanding friendship with but also had been with the business since it's beginning.
Claire tried to pass off Mia and Mel's best product "One Night Stand" to Greg and Ron from Get Some Cosmetics by just repackaging the contents and turning her finances and focus to the guys, even though Claire told Mia and Mel that she was trying to promote feminism. Mia and Mel finally figure out Claire's bad intentions and teamed up with an old ally of Claire's, Shay Witmore (Lisa Kudrow), to take back their business and become more successful than their wildest dreams.
Like a Boss has very clever comedic writing that also occasionally sneaks in current social issues like when Mia (Tiffany Haddish) broke a drone and told Mel "Put it in your purse, you're a white woman, you will not go to jail, two different laws, you got that white privilege, they won't care." This light comedy provides lots of laughs in revealing the inside conversations of best friends and is filled with hilarious comedic gestures from all the actors, making it very visually amusing. Tiffany Haddish is a brilliant physical actor doing crazy stunts like slipping over the ledge at Ovieda corporate and planking dozens of stories above the lobby until drug to safety by her feet and the ghost pepper scene is hysterical.
Rated: R (Drug Use|Crude Sexual Material|Language)
Runtime: 1h 23m