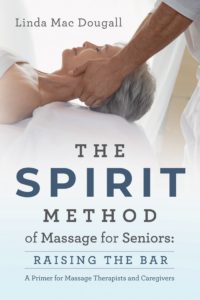 A book by Linda Mac Dougall, M.A., HHP, CMT
Linda has a unique vantage point. In her years of experience, she has been a holistic health practitioner, a direct care worker, an administrator of two group homes for United Cerebral Palsy, a Federal advocate for the state of Hawaii's developmentally disabled population, a Camarillo State Hospital teacher, a mental health worker, and a massage therapist specializing in seniors and the disabled.
Linda's M.A. in Counseling Psychology and the needs she sees unaddressed in senior care, prompted her to write her book. An understanding of aging from the perspective of a senior seemed necessary and timely.
She gives talks to residents in retirement homes and staff in non- profits. Recently, she has been asked to do virtual training for a chain of massage schools.
The book, available on Amazon, speaks to the unique needs of seniors and is written by a senior. It is presented in a question and answer format for easy reading and learning. In 'The SPIRIT Method of Massage for Seniors: Raising the Bar…A Primer for Massage Therapists and Caregivers', SPIRIT is broken into chapters with several subchapters. They are:
Brief stories punctuate points made about abilities, care or mishandling, working with retirement homes and families, mobility devices, medications, and even about how one event can inspire two different people in very different ways. Yes, there are sections that deal with massage, but the book is about the human aging condition and those who wish to work in that space. It is about communication, understanding on more than an intellectual level, and relationships with the senior and their orbiting 'others'. To their orbit, you are an 'other'. The need for respectful boundaries is ever present.
This is not your ordinary massage book or your ordinary caregiver training. It is an invitation to work with our seniors in an enlightened manner, to know more about their lives and needs on both a physical and mental plane. I ask you to look and really see the needs that lie right before your eyes. This is the gift of SPIRIT
Linda Mac Dougall, M.A., HHP, CMT Management Consulting for caregiving situations.
Now on Amazon "The SPIRIT Method of Massage for Seniors: Raising the Bar, A Primer for Massage Therapists and Caregivers" https://myctfo.me/legacy70
805-202-6379 www.seniormassagegroup.com www.loveyourlongevity.com