You can drop off new unwrapped toys.
In partnership with Ventura County Fire Dept the Local Love Project will be taking part in the annual Spark of Love Holiday Toy Drive! With so many impacted this year we need your help more than ever.
The Local Love Project is honored to be partnering up with our local business partners and Ventura County Fire on the Spark of Love Toy Drive.
You can drop off new unwrapped toys to the following wonderful businesses.
Winchesters Grill https://www.winchestersgrill.com/
632 E Main St, Ventura, CA 93001
Salzer's Records http://www.salzers.com/
5777 Valentine Rd, Ventura, CA 93003
Beacon Coffee http://beaconcoffee.com/
5777 Olivas Park Dr r, Ventura, CA 93003
211 W Ojai Ave, Ojai, CA 93023
LIV Sotheby's International Realty http://livsothebysrealtyca.com/
554 E Main St, Ventura, CA 93001
Ventura Botanical Garden https://www.venturabotanicalgardens.com/
567 South Poli St, Ventura, CA 93001
La Dolce Vita http://www.ladolcevita1901.com/
740 S B St, Oxnard, CA 93030
Rincon Brewing http://www.rinconbrewery.com/
4100 Telegraph Rd, Ventura, CA 93003
205 Santa Barbara St, Santa Barbara, CA 93101
5065 Carpinteria Ave, Carpinteria, CA 93013
And our wonderful partners at @Del Monte !
For more information go to https://vcfd.org/spark-of-love-toy-drive/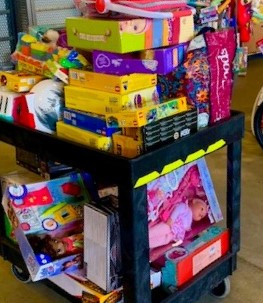 Want another fun way to drop off toys?
The Local Love Project Team will be out at the Holiday Drive Through Light event at the Ventura Fairgrounds through the 20th collecting toys. Bring an unwrapped new toy and help us to give back this holiday season.
For more info and tickets got to https://www.eventbrite.com/e/holidays-in-your-car-ventura-tickets-125507922575
Drop Off A Toy: Now through Christmas Eve, you can drop off new, unwrapped toys or sports equipment at any participating location
Donate Online: https://www.vcpfa.org/spark-of-love-2020/
To make a donation via credit card to the Ventura County Professional Firefighters Association Charity Fund, click the 'Make a Donation' button. All proceeds will go to buying toys or sports equipment for the children and are tax-deductible. TIN # 47-2253294
Buy A Toy: Myregistry.com/giftlist/sparkoflove
All purchases made online will be delivered to Toy Central for distribution.