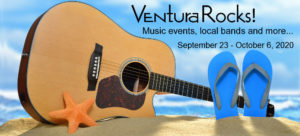 There is a fabulous resource as we navigate all the do's and don'ts during the pandemic. It's the VenturaCountyRecovers.org website and it has a "roadmap" to reopening and states, "Live solo or duet (from same household) singers/musicians can perform outdoors at restaurants, bars, or wineries. The soloist/duet must stay at least 20 feet away from patrons and not amplify the music to the point where people have to lean in to be heard. The live music cannot cause people to gather. It should be for the benefit of the business patrons who are already seated and not to attract people to gather around the performers and/or stage. All other local and state guidance must be followed."
Don't you agree that sounds fair, though I'm not sure most venues have an extra 20 feet of empty space to spare. But let's see how it unfolds and hope each City gets on board, and with any luck at all, we can enjoy our local artists while supporting our favorite venues hoping they'll provide live music again at such venues as Peirano's, Winchesters, Grapes and Hops, Leashless, Boatyard Pub, Bombay's, etc….
Meanwhile the crew from Concerts in Your Car continue to add acts including Slightly Stoopid, Chris Janson, the Beach Boys, Aaron Lewis & Sully Erna, and two shows with DJ Snoopadelic. Most shows start at $99 per car and as I reported before, you get to decide the volume as you run control on your own system in your car (yes, the radio). And per their website (www.ConcertsInYourCar.com), they'll be opening a venue this month in Del Mar, and next month in Phoenix, Arizona.
Down in Oxnard in the Oxnard Performing Arts Center parking lot, the Canyon Club continues to line up acts, mostly of the tribute band variety, but I just saw that Jon B. (Jonathan David Buck) is currently schedule to perform October 17. This is the first show where the ticket price per vehicle has gone up from $39 to a hefty price of $175 – $200 per car. Grammy nominated Jon B. has written songs for artists such as Michael Jackson and Color Me Badd as well as performing on hit records with Tupac and Babyface not to mention his record Bonafide going Platinum.
The newest episode of VenturaRockSpot has been posted (you can find it on the homepage of VenturaRocks.com as well as at VenturaRockSpot.com) which features my interview with Kelly Zirbes and Perry Robertson of Kelly's Lot. We discuss the history of the band, their newest release called Another Sky and I not only play their latest music video "Butterfly," but they perform a couple of songs live as well. It's a fun interview, I think you'll enjoy it. And many thanks to Michelle Hoover, producer extraordinaire, for another fine job.
Do you have any music-related news or upcoming shows (online or live) you want help publicizing? Please send all information short or long to [email protected], and for updated music listings daily, go to www.VenturaRocks.com.