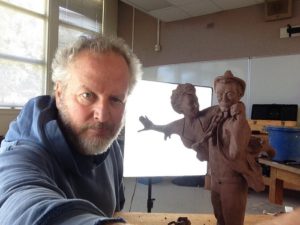 Studio Channel Islands Arts Center (SCIART) will launch its Artist Talks series Oct. 3, 1 p.m., via Zoom, featuring actor, artist, director and screenwriter Daniel Stern. In this talk Stern invites the virtual audience to join him inside his studio to see first-hand how he works, what inspires him and shares what he is currently working on.
Over the decades, Stern has created a body of work which references the glamour and excitement of the stage and screen. Perhaps best known for his roles in the films Home Alone and City Slickers, Stern also found his way into people's hearts as the adult voice of Kevin in the television show The Wonder Years. Throughout his varied career as performer, director and writer, Stern has built an impressive body of sculpture. Stern's work is available to view online at https://www.danielstern.com/#/.
SCIART's Artist Talk series is provided free of charge to SCIART members (http://studiochannelislands.org/membership/) and is also included as part of the ticket purchase for SCIART's upcoming Drive-in Gala, Oct. 17. All proceeds raised through the gala go to support Studio Channel Islands in delivering its mission of providing art education programs in the schools and the community, as well as programs focused on helping with dementia and stroke patients. Learn more about the Drive-in Gala here: http://studiochannelislands.org/drive-in-gala/.
Additional virtual Artist Talks are scheduled for 1 p.m. on Oct. 10, Nov. 7 and Nov. 21. These are free to SCIART members. Tickets for non-members will be available for purchase at https://studiochannelislands.org/.