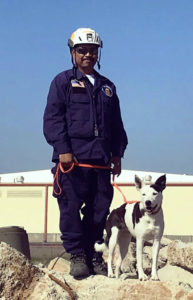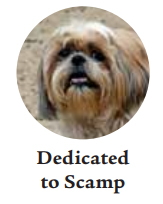 ∙From the Search Dog Foundation: Topa had been locked in a car for nearly eight hours by the time concerned citizens noticed and called the police to rescue this Border Collie mix. When her owner was discovered in a nearby bar, he was arrested for animal neglect and other outstanding legal issues, forcing him to surrender ownership of Topa to the Western Hills Humane Society. Soon after she arrived, Topa was discovered by SDF recruiters, who quickly evaluated her and determined she was a great fit for our program! Benefiting from the generous support raised by The Rachael Ray Rescue Brigade in 2018 and 2019, Topa completed her search dog training in September, 2019 and was partnered with Rudy Valencia of the Berkeley Fire Department in California. The team is now training and working toward FEMA certification, making them deployable anywhere in the United States as part of California Task Force 4.
∙The North Korean government is reportedly ordering more "decadent" citizens to hand over their dogs so that other people can eat.
According to Canadian news outlet the National Post, South Korea's Chosun Ilbo reported that President Kim Jong-Un calls pet ownership a byproduct of "bourgeois ideology" and is ordering dog owners to surrender those pets so they can be slaughtered and fed to hungry North Koreans.
"Authorities have identified households with pet dogs and are forcing them to give them up or forcefully confiscating them and putting them down," a source reportedly told South Korean media.
That report states that common folks in the communist "Hermit Kingdom" raise livestock for sustenance but owning an animal for companionship is a luxury enjoyed by people of privilege. The fact that some North Koreans can afford dogs has "stoked some resentment."
Soo you dog owners should be happy to know that you are people of privilege. How sad this is.
∙For the first time, the RedRover Responders training is available online to those who are eager to help animals and people in crisis. This online course will be offered at no charge.
RedRover Responders volunteers are specially trained to care for and shelter large numbers of animals after they have been rescued from cruelty and neglect cases or natural disasters. The volunteers provide the workforce which enables communities to address their animal needs swiftly and efficiently. Additionally, volunteers often deploy to help build pet-friendly spaces at domestic violence shelters in conjunction with RedRover Safe Housing grants.
The online course is self-paced and can be completed in just a few hours, while offering the expert information and training that RedRover is known for in preparing volunteers for future deployments.
With more than 4,000 trained volunteers in the United States and Canada, RedRover can deploy its volunteers quickly when communities become overburdened by a crisis involving large numbers of animals. Since 1987, RedRover has responded to more than 200 natural disasters and other crises nationwide, including Hurricanes Harvey and Katrina, Camp Fire, Superstorm Sandy, 9/11, Joplin Tornado, Exxon Valdez Oil Spill, and many more.
Deployments and in-person training workshops are currently on hold due to COVID-19, but will resume once it is determined to be safe.
To learn how to become a RedRover Responders volunteer, visit: https://go.redrover.org/page/21471/event/1.
Since 1987, RedRover has focused on bringing animals out of crisis and strengthening the human-animal bond through emergency sheltering, disaster relief services, financial assistance and humane education. RedRover is a founding member of the National Animal Rescue and Sheltering Coalition (NARSC), established after Hurricane Katrina's devastating impact on more people and animals than any other storm in United States history. To learn how RedRover is creating a more compassionate world, please visit RedRover.org.
∙Houseplants are a wholesome addition to the ambiance of any room. They can provide several health benefits, including keeping carbon dioxide levels down, removing pollutants, and improving moisture levels in your home. However, there are some common houseplants that can be toxic to your furry friends. According to the ASPCA Animal Poison Control Center (APCC), the following houseplants could be potentially dangerous to the wellbeing of your pets.
Mildly Toxic Plants:
Fiddle Leaf Fig and Spider Plant can be toxic to both dogs and cats. Small ingestions of either plant can cause mild gastrointestinal irritation, skin irritation, vomiting, and diarrhea.
These plants contain insoluble calcium oxalates. The stem, leaf stalk, and leaves contain crystals that can cause irritation to the mouth and GI tract when chewed or ingested. Additional symptoms include nausea, drooling, gagging, vomiting, and diarrhea.
In addition to Calla Liles and Peace Lilies, there are several other Lilies that are extremely toxic to cats. According to Pet Poison Helpline, Lilies classified as "True Lilies" and "Day Lilies", including Easter Lilies, Tiger Lilies, Stargazer Lilies, Japanese Show Lilies, and Asiatic Lilies, can trigger sudden kidney failure in cats. Pet owners should avoid having these types of Lilies in their homes or yards to avoid harm to their animals.
Exposure to these plants are not considered life threatening, but pets that show more severe symptoms may require a visit to your local vet.
Moderately Toxic Plants:
Small exposure to these plants can cause vomiting or diarrhea in dogs and cats. Larger exposure can lead to depression, weakness, and lack of coordination. Additional symptoms for cats may include enlarged pupils, rapid breathing, elevated heart rate, drooling, and abdominal discomfort. Exposure to Jade plants in both cats and dogs may also cause lethargy, ataxia, and muscle tremors.
Severely Toxic Plants:
All parts of the Sago Palm plant are extremely toxic to both cats and dogs. However, the seeds contain the highest concentration of toxins. If exposed, pets can experience immediate vomiting, diarrhea with blood, lethargy, anorexia, and seizures. The most extreme symptom is liver failure, which can develop within three days of consumption.
Easter Lilies are very toxic to cats. Even the smallest amount of exposure to this plant can result in kidney injury and death, which can develop within 48-72 hours. Other symptoms include vomiting, depression, lethargy, and anorexia. Dogs often experience less severe symptoms than cats.
It is important to have an emergency plan in place if/when your animal is exposed to a toxic plant. Have emergency vet numbers easily accessible, including your own vet and a poison control hotline. The APC can be contacted at 888-426-4435. If symptoms are severe and you need to take your pet in for veterinary assistance, it may be helpful to bring a picture of the plant so your vet knows exactly what was consumed. In most cases, it is best to contact your vet if your pet is exposed to a large amount of these plants.
If you currently own any of these indoor plants, be sure they are placed on a high shelf or counter and are out of reach of your animal. If your pet likes to roam your fenced yard, you should consider avoiding these types of toxic plants in your landscaping. Pet owners should context their vet immediately if your pet has been exposed to either of these plants. You can also contact APCC at 888-426-4435.