Many vehicles driving by were honking in agreement. Photo by Julio Hernandez
by Shakti Dutt
On the 14th of August at 3:00 pm, about 30 locals gathered in front of the Ventura City Hall.
Under the hot sun, they were holding signs that read "Black genocide 1619 – 2020", "Are we dark enough to be shot", "No freedom till we're free", etc.
A young woman of color named Gabrielle Rogers was holding up a sign that read "Honk for Black Lives". Some vehicles passing by were slowing down and honking. However, there were also some people who displayed their disagreement by showing a thumbs down or middle finger. Rogers joined the movement to stand up with her black community and about "three weeks ago her cousin got shot by the police and they didn't put it up on the news". This led her to wonder how many other people who experience that are not put up on the news.
At 4:00 pm, all protesters, led by Rogers started marching on Main Street while chanting "These streets are our streets."
The bystanders seemed to be recording videos of the march on their phones and some even exclaimed in agreement and some in disagreement.
A left turn was taken on Figueroa Street and then another left turn on Thompson Blvd. All eyes were on the protesters.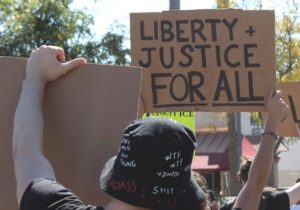 At this time, the protesters were chanting "Black lives matter." Many vehicles driving by were honking in agreement.
Another left turn was taken on California Street.
On the California/Main street intersection, all protesters kneeled down, followed by five minutes of silence.The silence symbolized half the amount of time that George Floyd was on the ground, unable to breathe.
"This is what democracy looks like" Rogers exclaimed, and the protesters followed. And the march back to City Hall began.
Because it was still very hot, the protesters took a three-minute break in order to get a drink of water before continuing their march. At this time, some participants had left.
The march continued down to California Street, toward Ventura State Beach. "Change is coming" the protesters started chanting. A left turn was taken on E. Thompson Blvd. and then a right turn on California Street. Many bystanders were chanting along with the protesters.
One of the protesters responded when asked what inspired them to help the movement. "What's the point of not helping. We're here..there's huge issues and if you're not helping then you're doing nothing. I knew things like this were happening..I knew killings were happening..just did not know the scale..and the more people that realize the scale…would change the culture and climate..and racists will know that they are not accepted".
The protest ended shortly after arriving back at the City Hall.