Concerts in Your Car
Just so you know, the Concerts in Your Car season won't last forever, probably as long as the good weather lasts, oh, and the pandemic. But I am happy to hear they'll also offer shows in Arizona without packing up and leaving Ventura. By the way, did I call it or what in my last column? Yes, they did add a couple more dates with Grammy winning alt rock band, Switchfoot, on Saturday, August 15 and certified double-platinum country music singer/songwriter, Tracy Lawrence, on Friday, August 21, as well as a comedy show, two performances on Friday, August 28, featuring none other than David Spade & Rob Schneider.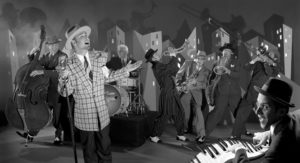 I did notice the Rubicon's Jimmy Messina & Friends was no longer posted on the website so I asked my sources and then confirmed with Karl Hunter, sax player for Big Bad Voodoo Daddy that they would be replacing those dates, and it's true! So, you can catch Ventura's own Big Bad Voodoo Daddy August 17, 18 and 19 from the safety of your own car.
Looking ahead to next month, the Ventura Music Festival will host a show with the Grammy and Emmy winning Gordon Goodwin's Little Phat Band on Thursday, September 24. You can expect a high energy program from swing to funk to Latin to pop with Vangie Gunn on vocals.
For the FAQ and ticket information as well as other dates for movies and such, go to the official website ConcertsinYourCar.com.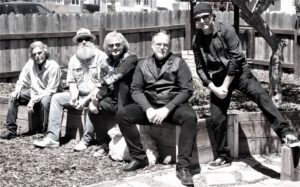 Q&A with Crooked Eye Tommy's Tommy Marsh
Crooked Eye Tommy will have their official CD release party down at the Oxnard Performing Arts Center where they are holding their own version of a drive-in style concert. The party is scheduled for Friday, August 21, with Joey Delgado from the Delgado Brothers, Guy Martin, Jon English and Jim Gustin & Truth Jones. According to the online evite, each car will have two parking spaces, one for your car and the other to set up camp in, and unlike the Ventura drive-in style concerts, food and beverages will be available along with restrooms. Tickets are available via Eventbrite.
I can't say enough about this CD; the sophomore release from Crooked Eye Tommy really captures the band's talent both as musicians and as singer/songwriters. Tommy has a winner on his hands.
Pam: What's behind the title of Hot Coffee and Pain?
Tommy Marsh: The title came about one morning when I woke up with bad back pain. I had been working in the yard the day before and apparently overdid it. I sat down with my morning coffee and under my breath mumbled "Hot coffee and pain." The words sort of rang in my head and a song started.
Why did your sophomore release take longer than Butterflies and Snakes?
Tommy: We started it in late 2017 and recorded some of the base tracks (I think you were there for some of it). Anyway, as things happen when recording at a bad-ass studio and, to be frank, I ran out of money. Over the next couple years many things happened. The Thomas fire, the mudslide, etc, etc, etc. They were very emotional times. It seemed like waiting was the right thing to do. We again worked on it last year and finally we got it done early this year. Life happens!
Tell me about the musicians on this one.
Tommy: I produced this one with Tammy (life partner) and the help of Charlie McClure an old friend and drummer on Hot Coffee and Pain.
Paddy Marsh on Guitars & Vocals
Craig Williams on Sax
Samuel Correa on Bass
And me of course (Guitar & Vocals).
Teresa James is a guest on the song "Baby Where you Been," a duet I wrote. She sings and plays amazing piano on that track.
Jimmy Calire is also on this album playing saxophone and organ.
Who gets writing credits?
Tommy: Paddy and I both wrote 3 songs each for this album and we chose 3 covers for the album.
Do you have a favorite song on Hot Coffee and Pain?
Tommy: My favorite song on the album is an old song, and it's not one that I wrote, it's Paddy's song, "The Time it Takes to Live." It has significant meaning to me because some of it was directed at me at a time when I was deep in the throes of addiction. This fact did not come to my attention until years later after I was free of the drugs and it is a strong reminder of those times.
Though they were bad times for me the redemption story of "Time it Takes" is a very real and personal reminder that I defeated that enemy and prevailed.
Time waits for no man
Wheel turns in the sky
Let us live while we can
Gotta take the time
The time it takes to live
I know you have a CD release party here locally "drive-in-theater" style at the Oxnard Performing Arts Center, but what else are you doing to get the word out during this unexpected pandemic?
Tommy: We were signed to Blue Heart Records from Pennsylvania earlier this year which has been amazing. They have been very helpful in getting the word out. Sallie Bengton is an absolutely, unbelievable life force. So grateful for this partnership.
We have also contracted the Blind Racoon Agency in Memphis as our PR firm for this release. They work with lots of amazing artists. Betsie Brown is truly an industry leader and we are honored that she has chosen to work with us this cycle.
Much like everyone else we are in the wait-and-see mode as far as what we will be able to do as far as live performances goes but I think it is too early to tell how the California music scene will fare post COVID.
You're getting airplay/spins?
Tommy: The afore mentioned Blind Raccoon agency has done a fantastic job getting the recording out to radio outlets who have been kind enough to play it. The Roots Music is the world's largest independent radio airplay charting organization; they receive airplay charts from thousands of terrestrial & internet radio stations. They have a wide range of airplay charts from rock to blues, country to bluegrass, and as of this morning Hot Coffee & Pain is #9 on the Blues Chart. We post airplay on our Facebook page for those interested. The record has been played on every continent on earth already and it hasn't even been released to the public yet! We are pretty stoked to say the least.
Hot Coffee and Pain is your best work hands down. How are the critics responding?
Tommy: Well so far, we have had some very positive reviews from a few blues music magazines and websites. Lots of very kind words; we are so grateful for each of them.
My thanks to Tommy for taking the time to answer these questions. You can find out more about the band at www.CrookedEyeTommy.com and via all the social media outlets.
The Pam Baumgardner Music Hour
I'm always looking for more music to share, new or old, and if you have something you'd like to have played on FM radio (and worldwide as we're on the internet), just drop me at line at [email protected]. I like to thank Kelly Zirbes, Jay Allred and Chris Rowlands for always keeping me in mind and sending me their singles as they knock 'em out; Kelly sent me Kelly's Lot's latest single, "Butterfly," Allred sent "Nika" from Last Rock Empire and Rowland a homage for all the waitresses and bartenders around the world called "Barmaid" from Professional Americans. You can hear all these tunes and more on The Pam Baumgardner Music Hour which airs at 104.1 FM in Ventura. Each show runs for two weeks debuting on a Tuesday at 5 pm, with rebroadcasts on Friday at 5 and Sundays at noon.
A Little This and That
The Ventura Music Festival continues to share a video weekly highlighting artist in a series they call VMF's Music Connects digital festival. They are accepting submissions and all genres are accepted from classical, to pop to roots, to jazz and everything in between. The most recent video featured an amazing cover from Django Allstars and their brand of swing jazz. All previous videos are available for viewing as well and all absolutely free at www.VenturaMusicFestival.org.
I'm not embarrassed to admit it at all, because I'm still a little giddy that Bernie Dresel took the time to post a Happy Birthday wish on my Facebook page last month. We had a quick back and forth about his gigs here in Ventura; I told him I was hoping he'd make it back when the Grape opens their jazz club. Bernie is most notable for performing and recording with the Brian Setzer Orchestra and Gordon Goodwin's Big Phat Band (yes, the band playing Concerts in Your Car on September 24).
And finally, for the powers that be, music lovers here in town are looking forward to getting out and seeing our local artists play once again, albeit in a safe environment and hopefully while the weather is still great. Let's get real, if an artist, duo or small ensemble while playing outdoors, with social distancing in place and where everyone who is not eating, drinking or singing on stage is wearing a mask, places everyone at no greater risk than if they weren't playing at all. Music is healing; music can bring us up when we've all been down and stressed. And please don't ever forget that a vibrant music scene is one of the defining aspects of this town and surrounding areas. We're nowhere near vibrant, our music scene is hanging on by a thread.
Do you have any music-related news or upcoming shows (online or live) you want help publicizing? Please send all information short or long to Pa[email protected], and for updated music listings daily, go to www.VenturaRocks.com.