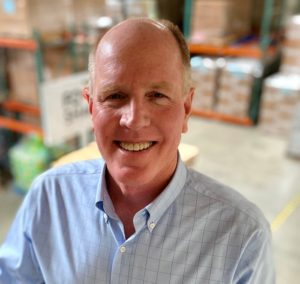 Food Share has appointed Kevin Drabinski as its new Chief Operating Officer. Drabinski replaces Susan Haverland who retired on June 12 after seven years with the organization.
Prior to his appointment at Food Share, Drabinski served as CEO of the Food Bank Coalition of San Luis Obispo County where he oversaw fiscal and operational growth for three years. Before that he served six years as senior field representative for California's 35th State Assembly office where he led constituent engagement and policy outreach with business, agricultural, public safety, and educational interests.
Commenting on her seven-year tenure at Food Share, Susan said, "As I transition away from the frontlines of this work, I realize how powerful Ventura County's social service organizations and county entities are when we work together to advocate for a just, healthy, and vibrant Ventura County for everyone who lives here. Together, we have made Ventura County a better place to live."
Monica White, Food Share's President & CEO expressed her appreciation saying, "While we are thrilled to welcome Kevin Drabinski as our new COO, Susan's departure will be felt by all of us who have had the pleasure of working with her. We thank her for her kindness, her compassion, and her commitment to advocacy on behalf of those experiencing food insecurity in Ventura County. "
Speaking about his appointment Kevin said, "It is an honor to join the team here at Food Share who hold a singular focus to lead the fight against hunger in Ventura County. As a team of hunger relief workers I look for us to strive for excellence across the board in operations, and to push for greater efficiencies and effectiveness, so that we can even better live out our mission that no one should go hungry."
Since 1978, Food Share has been feeding the hungry in Ventura County. It all began when eight friends banded together to provide food to those in need in Ventura, CA. The early philanthropic movement started in a family garage, quickly outgrew a donated fire station in Saticoy and now operates in Oxnard, CA with two warehouses with a combined 36,000 square feet. Today, staff and volunteers distribute over 13 million pounds of food, or over 11 million meals, annually through its 190 pantry and program partners.
As Ventura County's food bank, Food Share provides food for 75,000 hungry friends and neighbors monthly. Food Share is a member of Feeding America, the nation's largest hunger-relief.organization, as well as the California Association of Food Banks. For more information about Food Share, visit www.foodshare.com.
You can make a donation in support of Food Share at foodshare.com/give