SEEAG and growers provide over 4,000 bags of fresh produce to local farm workers.
Students for Eco-Education and Agriculture (SEEAG) organized produce donations from 13 different growers to fill over 4,000 bags of fresh produce for farm workers in need. The produce was distributed weekly in April and May.
Participating growers were Gill's Onions, Houweling's Group, San Miguel Produce, Earthtrine Farm, Saticoy Lemon Association, Duda Farm Fresh Foods, Petty Ranch, Calavo, Mission Produce, Tamai Family Farms, Fig Tree Farms, Chivas Skin Care and Bennett's Honey Farm.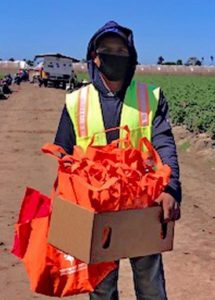 Growers were quick to respond when SEEAG put out the call for produce donations. "We want to thank our local growers for their tremendous generosity. They know that this has been a stressful time for our farmworker families in Ventura County," says Mary Maranville, SEEAG founder and CEO. "Parents are harvesting crops while their kids are learning at home. Families are struggling financially while taking extra precautions to stay healthy and safe."
SEEAG is also delivering "Farm Fresh Kids Wellness Bags" filled with educational materials, jump ropes, dental kits and fresh produce (celery donated by Duda Farm Fresh Foods and pixie tangerines donated by Friend's Ranches) to children of farm workers. So far, the nonprofit organization has delivered 1,175 the bags and plans to deliver another 400 by the end of June.
The bags are made possible by donations including $1,000 from Gold Coast Health Plan and $2,500 from Union Bank. We want to thank Union Bank, Gold Coast Health Plan and our other donors for helping SEEAG supply educational and health-related items to children during this time when many may feel disconnected from school," says Maranville, SEEAG.
To learn more about SEEAG, go to www.SEEAG.org, Facebook www.facebook.com/SEEAG.org or contact Maranville at [email protected], 805-901-0213.
Founded in 2008, Students for Eco-Education and Agriculture (SEEAG) is a nonprofit organization that aims to help young students understand the origins of their food by bridging the gap between agriculture and consumption through its agricultural education programming. SEEAG's "The Farm Lab" program based in Ventura County teaches schoolchildren about the origins of their food and the importance of local farmland by providing schools with classroom agricultural education and free field trips to farms. Through this and other SEEAG programs including Farm Day in Ventura and Santa Barbara counties, over 65,000 elementary school students and community members in Southern California have increased their understanding of the food journey. For more information, visit www.seeag.org or email Mary Maranville at [email protected].