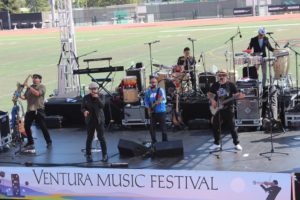 by Pam Baumgardner
VenturaRocks.com
Ventura Music Festival
It's official, the Ventura Music Festival put out a press release which postpones their 26th season scheduled for the last two weekends in July 2020 and it's been moved to July 2021. The VMF's chief executive, Susan Scott said, "when the only certainty is uncertainty, creativity and innovation come to the fore along with the necessity to be nimble.  Assuming conditions permit 60 or more days' readiness, we can present 3-4 live, fully staged concerts between Fall 2020 and June 2021, with distanced seating and other measures as required."
She also said that larger events were on the drawing board that could be staged outdoors. I remember well Ozomotli on the athletic field at Ventura College. It was quite an innovative idea which was well received during the Ventura Music Festival's 2015 season. There are plenty of locations throughout Ventura County where outdoor concerts could potentially be held.
Drive-In Concerts III
As previously reported, CBF Productions (California Beer Festival), will be presenting Concerts in your Car, a drive-in theater type setting for live music using the parking lot at the Ventura County Fairgrounds at Seaside Park. The first live show is marketed to the new grads in the area with SuperDuperKyle performing two nights on Friday, June 12, and Saturday, June 13. They have not announced other dates or artists. SuperDuperKyle who is also known as K.i.D. (Kyle is Determined), is a former Ventura High School student himself (Kyle Harvey), who has given back to his school with a sizeable donation to the theater department and who has sold out the Ventura Theater in the past. He is incredibly popular having paved his own road making a mark in the hip-hop community.
As the state relaxes a lot of their stringent guidelines, there are still many obstacles to deal with such as no bathrooms. WHAT??? Please dear God, let the portables be greenlighted! And as much as I love live music, maybe someone could also utilize the same parking lot for actual drive-in movies. I'm about ready to travel an hour or so to catch a movie up in Goleta, or visit friends up near Morro Bay where San Luis Obispo just reopened their Sunset Drive-in theater. And just a small confession, while I do love movies, it's mostly because I miss my movie theater popcorn!!
Main Street Ventura Experiment
The closing of downtown Ventura's Main Street to through traffic is a green light as the DVP (Downtown Ventura Partners) work with the City and restaurants and merchants to create a safe environment for people to enjoy, but mostly to help kickstart our economy.
The City Council unanimously voted in favor of the emergency ordinance on May 18, 2020, which will close Main Street from Fir to the Mission (or Figueroa Street). If you live close enough, I would encourage you to either walk, ride your bike, or use one of the many rideshare companies, which include our local taxis, Lyft or Uber.
According to the City's Economic Development Manager, Estelle Bussa, the target date for the closure is on or around June 15th. She also told me that the Ventura Unified School District is able to do a parade graduation for the City's graduating class of 2020 which will take place on June 13 and 14 which will have an impact to the traffic in downtown.
I also had a great conversation with Julie Henszey from the DVP about the possibility of live music and we were pretty much on the same page where solo or duos could perform for a couple of hours over the weekend which would liven up downtown without encouraging amassing a large group of people dancing in the streets. She's even thinking of speakers atop buildings along Main so one act could be heard on each block.
By the way, it cracks me up when I hear talk about "repopulating" areas after the quarantine. Seriously, wouldn't it be more proper to say "reoccupying" an area? We have the people; we don't need to produce new ones, although it wouldn't surprise me if we have a baby boom early next year.
New Music
New music released during the pandemic includes Dylan Garcia's Devil's Playground which dropped Friday, May 29, 2020; some of the music had been kept unpublished as far back as 2009. You can find Dylan's work on most social media platforms.
The band, earth immigrant has a new EP called Genrefluid where each of the four tunes features a different genre including country, punk, rockabilly and synthpop, and yes, they prefer their band's name in print to be all lowercase which is not always an easy feat what with autocorrect trying to override one's poor grammar choices.
All-a-Blur released False Flag, a highly respectable punk entry. The album was engineered, mixed and mastered by Armand John Lizzy at the Captain's Quarters here in Ventura. You know years ago, punk bands were mostly garage bands who played loud, fast, but mostly, couldn't quite play their instruments, and NO ONE CARED! These guys know how to; yes, they're loud; yes, they're fast; and with a resounding yes, they nail it!
Michael Henszey & David Standridge were inspired by the pandemic and wrote and produced a song called "Take Care of Each Other" which can be found on Bandcamp; they posted on their page, "In the spirt of this song, we are donating your download gift to the World Central Kitchen, who is distributing fresh meals in communities across the US. World Central Kitchen is active in dozens of cities partnering with local restaurants and providing 250,000 fresh meals every day. Founded in 2010 by celebrity chef, Jose Andres, the organization prepared food in Haiti following its devasting earthquake."
You might remember World Central Kitchen was on the scene here in Ventura making meals for first responders and residents displaced by the Thomas Fire. Over 500 homes burned, no telling how many occupants in each…so a lot of people benefited from this service.
Each one of the artists mentioned here have been played on the Pam Baumgardner Music Hour out of the CAPS Media center on KPPQ-LP at 104.1 FM. I've been producing hour-long shows for the past couple of years with 110 episodes in the can. My show highlights mostly artists out of the 805 (area code) and artists who come to the 805 to play. And while the frequency at 104.1 FM isn't all that strong (serves most of Ventura if you don't have a large object like a hill between you and their tower), you can listen online at Capsmedia.org/radio or use the MyTuner app on your smart device.
I will admit not all music I play is professionally produced music, but I believe all artists deserve a spin on the radio from time to time. It's a mixed bag of tunes ranging from punk to jazz and all points in between and airs Tuesdays and Fridays at 5 pm and Sundays at noon. Each show runs two weeks at a time. I hope you tune in sometime, and if you have music you'd like to submit for airplay, just drop me a line at [email protected].

Venues Reopening

A couple of venues have taken advantage of the shutdown and have been doing upgrades and remodeling. I'm looking forward to checking out both the Keynote Lounge on the eastside of town as well as Grapes and Hops downtown on Main Street in the near future. Otherwise, most bars and restaurants have been slowly opening up with all the social distancing guidelines in place, and a handful are having live music. The venues already putting out their feelers for booking music include Four Brix Winery for single or duo acoustic sets for weekend afternoons; 1901 Speakeasy in Oxnard is booking solo artists as well as duos for Friday and Saturday evenings; John from Leashless is absolutely onboard for hosting music starting with Saturday afternoons but he is getting his ducks in a row in order to extend out their patio area very soon; JR at Winchesters is holding off for when they can be back at full capacity, but is also entertaining expanding their tables into the street and/or parking lot; and the Winery Ventura has already been hosting a few combos here and there; the latter's floor plan is quite conducive for social distancing especially when they open up their back doors so people can use the adjacent parking lot where food trucks are available.
And while I don't have specific artists to report currently for my column, do keep tuned to VenturaRocks.com as I'm able to update the website daily, and my column here in the Breeze is once every two weeks. I will be updating as the information comes in. It is going to take some time before we're back to hanging out with one another, especially in crowded places like Star Lounge or Bombay's used to be. Until we have this COVID-19 totally under control, things will look different for the time being. But I'm happy to report it looks like music will continue to be an important aspect to our community. Be patient, do your part, and for God's sake, wash your hands!
Do you have any music-related news or upcoming shows you want help publicizing? Please send all information short or long to Pa[email protected], and for updated music listings daily, go to www.VenturaRocks.com.