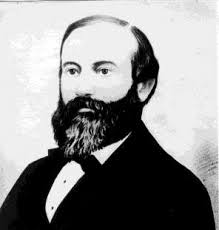 by Richard Senate
He was born in Spain in 1833 and settled in Peru where he earned a degree in Law.  He came to what is today Ventura in 1854 where he married Francesca Sanchez receiving as part of her dowry a large building on Main Street and Valdez Alley. This large adobe he used as a saloon and billiard hall.
This was the time when Ventura was a wild cow town and served the needs of the many thirsty cowboys from the local ranches.   A supporter of President Lincoln, he had a small Mission Era Cannon that he fired off when he heard reports of a Union Victory in the Civil War. In 1863 he was elected to the California State Assembly  and was part of the group that formed Ventura as a city in 1866.
More and more the people of this area, then part of Santa Barbara County, grew to dislike their treatment from Santa Barbara. Many felt that, what is today Ventura County was being ignored and longed to form their own county. In 1870 Assemblyman Escandon put forth bill AB 442 for an independent county to be called Richland County. The Bill failed.  He rewrote the bill and resubmitted it. It passed and what was now called Ventura County, came into existence on January 1st, 1873.
Escandon was part of the commission that set up the county government and elections for these offices.  He later was elected Mayor of the City in 1875 and after his term, he served for many years on the City Council.
Rumors suggest that, as a saloon owner, he was a bit too fond of his own wares. Alcoholism was a serious problem in 19th Century America.  On Thanksgiving Day 1884 he was playing cards at the Tico Adobe on the corner of Main and the Avenue (where Burger King now stands). He complained of not feeling well and asked to lay down in the back room.  Hours later he was found dead. He was 51 years of age.  For all that he did to form Ventura County and city, for his years of service, a statue should be put up to honor his memory. A case could be made that without Angel Escandon there wouldn't be a Ventura as we know it today.