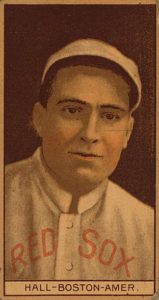 by Richard Senate
A famed major league baseball player Charlie "Sea Lion" Hall  now rests at Ventura's Ivy Lawn Cemetery.  He was born in Ventura in 1885, his mother Elvira Hall was a decedent of one of the early Spanish families of Santa Barbara. He was baptized at the Mission San Buenaventura as Carlos Luis Hall and spoke both English and Spanish. Though he would go on to achieve fame, his life was filled with tragedy.
At the age of three he lost his mother.  He learned baseball as a teen playing on a local team called the Palm Street Nine being noticed as an accomplished pitcher with a mean fastball pitch. The Pacific Coast League discovered him at age 19 and he quickly was recognized as a valuable pitcher.
In 1906 he married Emma Larson and, sadly, in 1909, she died in childbirth. The son she had lived and was raised by his grandparents. At that time Charlie went into the majors and played for the Cincinnati Reds as a relief pitcher. He was hard pressed in a game and choked. The Reds traded him to the Boston White Sox and it was with Boston that Charlie made his best mark. In 1910 he even faced off the great Ty Cobb and struck him out, no small feat.
In 1911 he married Bostonian Marie Cullen, bringing his new bride to Ventura.
In 1912 he played in the World Series. The then went to the St. Louis Cardinals for a year and then, for a time, with the Detroit Tigers.  It was here that his fans gave him the unique nickname of "Sea Lion" because of his rasping voice that sounded like a walrus. In 1920, toward the end of his career, he pitched a no hitter game. After 27 years of professional baseball, Charlie Hall retired, returning to his beloved Ventura where he took a job as a member of the Ventura Police Department.  Tragedy struck again when his six-year-old son accidentally shot his three year old brother.
He worked as a jailer at Ventura County Courthouse ( now Ventura City Hall) and then served as a Ventura County deputy sheriff.  He passed away in 1943. He was a great ball player and an excellent police officer. Such an inspirational Venturan deserves to have his statue put up so his memory and accomplishments will not be forgotten.