Michael O'Kelly created something that would enhance the lobby and Ventura.
Among his many wonderful projects Jim DeArkland had restored and improved the interior of 21 California Street, known as the Erle Stanley Gardner Building, He has created beautiful offices in the 2nd, 3rd and fourth floors, and Finney's located on the ground floor. Opening on to California St. is the lobby for the building. Jim wanted to embellish the lobby and install something that would become part of the buildings significant history so he commissioned Michael O'Kelly to create something that would enhance the lobby and the interior architecture.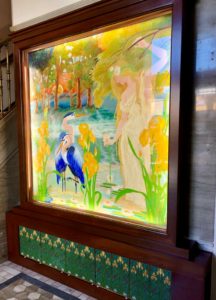 This 'First National Bank', built in 1926, is described as Renaissance Revival, but O'Kelly, who has designed and created several major public art works in Ventura, decided to introduce two concurrent styles and blend them into one unified work…Art Nouveau and Art Deco.
O'Kelly spent the last 7 months painting and designing this multimedia work. It includes a 5'X5' foot oil painting, a panel of ceramic tiles, interior lighting, all set in a hand crafted mahogany double frame and base.
Michael worked with Danny Bealver – master wood worker, Gerardo Asia – Lighting designer and Juan Aguirre – O'Kelly's ceramic partner.
The finished installation may be seen in the lobby and from California St. and sidewalk.
In 1933 Earle Stanley Gardner, a lawyer at the firm, published his first novel: "The Case of the Velvet Claw". It featured something previously unknown to detective fiction, a crime-solving lawyer. Perry Mason became an instant hit, and by the mid-1930's Gardner would leave the law to write full time. In all, he would write 82 novels featuring Perry Mason.
The painting was inspired by this poem by Michael's son.
"Dusk is when time halts.
Dust hanging in the air.
Still, yet in motion.
Lifeless, but living.
The clouds pulsate slow, like gold veins.
Such lavish taste must have a cost.
Is this where the lovely ones go?'
Devin Brendan Kelly 2017.