Streaming Spotlight
by Cindy Summers
Tiger King: Murder, Mayhem and Madness – Netflix




The Tiger King reality series has consumed the attention of over 30 million stay at home viewers and centers around the everyday life of Joe Exotic aka Joseph Maldonado-Passage, a zoo owner in Oklahoma best described as a "gay redneck, gun-toting, mullet-sporting, tiger-tackling polygamist. Joe's GW Zoo profited most on the breeding and petting of baby tiger cubs, earning up to $10,000 per cub, though can only be used for cub-petting until 12 weeks old, thus causing Joe to accumulate over 200 tigers in his zoo, along with hundreds of other animals and a unique cast of misfit employees from very colorful backgrounds.
Joe catches the eye early on of producer Rick Kirkham, who agreed to produce his internet show Joe Exotic T.V. while also filming a reality TV show Kirckham named the Tiger King. Having an extensive background in journalism and early beginning in Inside Edition, as well as tons of professional equipment, Kirkham's production brought Joe's shows to the next level gaining him a larger audience of fans.
Someone who was not a fan of Joe was Carole Baskin, owner of the Big Cat Rescue Sanctuary in Tampa, Florida, having inherited millions from her husband who strangely disappeared without a trace just over a decade earlier. Baskin didn't believe in the private ownership of big cats, and was totally against the practice of cub-petting, constantly seeking ways to use her fortune to put Joe out of business. This infuriated Joe, who constantly staged mock shootings, beatings and various ways to kill Carole on his internet show, where he was the flamboyant star bad mouthing Carole and blowing up things.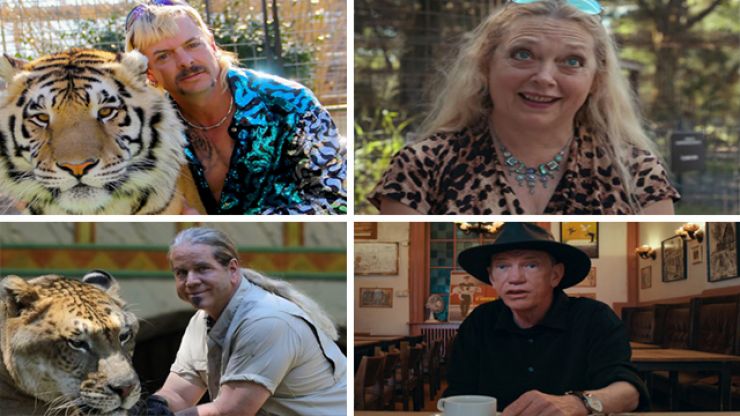 Joe had a huge ego, running for President and after losing ran for Governor of Oklahoma, passing out condoms with his picture on them. Cub-petting was a good way to attract young partners, and Joe married John Finlay when Finlay was only 19 years old. A few years later and while still married to Finlay, Joe also married 19 year old Travis Maldonado. After 11 years, Finlay left the threesome and married the office secretary who worked at the zoo. Neither Finlay nor Maldonado had been in a gay relationship prior to being with Joe, and neither actually considered themselves gay. Joe's third husband Dillon Passage was gay and his only husband at the time.
The other well known cub-petting operation was a 50 acre preserve run by Dr. Bhagavan "Doc" Antle in Myrtle Beach, South Carolina, but Doc's facility and clientele were very upscale compared to Joe's struggling G.W. Zoo. Antle lived with a guru in his teen years and was exposed to tigers and other animals living freely and peacefully among humans. Doc's tours start at $350 per person and go up to $600 and more. Doc is also one of Carole Baskins targets in her quest to shut down cub-petting operations across the country.
There so much crazy here to keep up with; arson, meth mayhem, shady investors, friends turned informants, business partners burning evidence, accidental shootings and tigers tearing arms off all right in front of cameras – you just have to watch it as every episode dives deeper and deeper down the rabbit hole the world has come to know as Joe Exotic. Viewers will be thoroughly shocked and entertained by the many unpredictable twists in the series, including Joe's jailing for hiring someone to kill Carole Baskin, and there's an 8th episode with comedian Joel McHale hosting an aftershow interviewing various cast members online during the stay at home orders.
Rated: TV-MA (violence, language, sexual content, drug use, animal harm. intense scenes)
7 Episodes – 45 minutes each