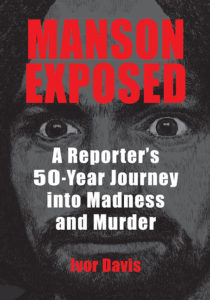 A leading expert on the Manson Family, Ivor Davis's latest book, "Manson Exposed: A Reporter's 50-Year Journey into Madness and Murder," has been released in an audio version. A bestseller, the book is a gripping eyewitness account from a reporter who was there, and in the trenches through the mayhem that followed the murders and on through the trial. Tantor Media is the publisher of the audiobook.
In the early 60s, London-born investigative journalist Davis came to America. He quickly became the lead American based reporter for the "London Daily Express." Davis arrived at the Tate-La Bianca murder scene on Cielo Drive before noon on the day of the murders- finding himself surrounded by all of the Los Angeles and foreign press.
Davis tracked every lead, intuitively knowing this story was massive. On the day Manson was arrested, he flew into Inyo County to try for an interview from Manson himself.
Davis spent several days at Spahn Ranch interviewing Manson Family members and ex-members, gathering an intricate picture of the cult and its charismatic leader, Charles Manson.
He co-authored "Five to Die" the first book ever published about the Manson murders and was published in 1970.  Davis found out later that his book was the roadmap that the prosecution used for Manson's 1970 trial.
Written with the efficiency of a reporter and a master storyteller's eye, Manson Exposed brings new life and unknown details to this story very few have ever known. Davis was on the front lines of the story and offers vivid, personal accounts, interviews, and hitherto unknown details from the very beginning right up to the death of the blue-collar psycho named Charles Manson.