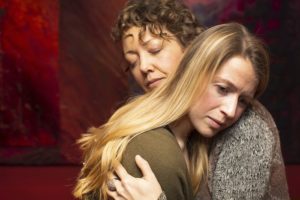 Rubicon Theatre Company of Ventura begins the new year with the West Coast Premiere of Never Not Once, a powerful, compelling and timely new drama by Carey Crim. Never Not Once is about the families we choose, and the secrets that can pull them apart. The production is helmed by Brit Katharine Farmer, who has directed acclaimed Rubicon productions of Gulf View Drive (Ovation Award, Best Production of a Play, Larger Theatre), Incognito (West Coast Premiere), Heisenberg with Faline England and Joe Spano, and South Pacific (all Critic's Choices in the L.A. Times).
Please note that Never Not Once contains strong language and sexual themes and is recommended for mature audiences.
Never Not Once runs from Wednesday, February 5 through Sunday, February 23, 2020. Performances are Wednesdays at 2 and 7 p.m., Thursdays at 7 p.m., Fridays at 8 p.m., Saturdays at 2 and 8 p.m., and Sundays at 2 p.m. Low-priced previews are available Wednesday, February 5 at 7 p.m., Thursday, February 6 at 7 p.m. and Friday, February 7 at 8 p.m. Opening night is Saturday, February 8 at 7 p.m. with a pre-show party downstairs at Rubicon beginning at 6 p.m. with champagne, hors d'oeuvres and photos, and a post-show gathering with the cast hosted by Water's Edge on the Harbor. Talkbacks are scheduled following all 7:00 p.m. Wednesday performances (except the first preview).
A new Coffeehouse Mixer Night for students is scheduled for the third Thursday of the run (February 20) at 7 p.m. with $20 tickets for all college students (plus the $5 handling fee). The price includes complimentary pizza and wings and one free beverage starting downstairs at 6 p.m. A special talkback particularly focused on the perspective of the college-aged characters in the play will follow.
Never Not Once is held at Rubicon Theatre Company, 1006 E. Main Street (the corner of Main and Laurel). Ticket prices range from $25 to $59, with special discounts for students, seniors, teachers, Equity, active members of the military and groups of 15 or more. For more information, or to purchase tickets, go to www.rubicontheatre.org or call 805.667.2900.