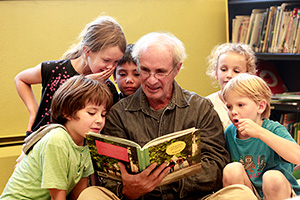 Ventura County Library READ Adult Literacy Program is now recruiting adult volunteer tutors who would like to help other adults in Ventura County improve their reading and writing skills. No teaching experience is required and the training is free. The next five-week tutor training series will be starting in February in Ventura and Simi Valley.
The READ program trains adult volunteers to provide free one-to-one reading instruction for adults in need of basic literacy skills. Instruction in basic literacy includes the development of phonetic reading skills combined with communication skills. Ventura County Library is encouraging residents to take this opportunity to volunteer as a tutor or encourage someone you know to take advantage of the free program.
After completion of the five-week training, tutors will meet with their adult learners at one of the assigned tutoring sites. Tutoring is scheduled by the availability of the tutors and the learners.
Illiteracy is an issue that can be debilitating in so many ways for adults who never received the proper instruction. Adults who are unable to read have a much more difficult time with many daily activities that others may take for granted, along with a clear disadvantage in today's competitive job market.
For more information about how you can support literacy and make a difference in someone's life, call (805) 677-7160.