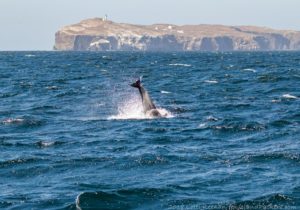 With Winter in full swing, visitors to Ventura Harbor Village can board an Island Packers whale watching vessel and travel from Ventura Harbor through the Southern California waters off Santa Barbara Channel, known for its marine mammal diversity, to see breathtaking mammals that cavort in waters off of the Channel Islands.
The 3-3.5 hour half day cruise, a sure bet to spend time with family or friends and can be awe-inspiring, with the possibility of seeing more than 28 species of marine mammals along with the migrating Gray, Fin and Humpback whales, seals, sea lions and large pods of dolphins identified within the waters of the Channel Islands National Marine Sanctuary of Southern California.
Whale Watching Excursions, now through April 1, 2020 marks the official start of the gray whale migration. Departure times are listed daily on the Island Packers website.
For more information about the Winter Whale Watching program, visit www.islandpackers.com or email Islands Packers at info@islandpackers.com.
From 6-foot dinghies to 88-foot commercial fishing seiner boats, scores of pleasure boats call Ventura Harbor home. Ventura Harbor Village marina is one of the top offloading squid harbors on the Pacific Coast and in the nation and Ventura Harbor Village marina is home to some of the largest fishery companies. Ventura Harbor has two yacht clubs and two boat yards.
For visitor information, contact Ventura Harbor Village at 805-477-0470, online at www.VenturaHarborVillage.com. Ventura Harbor Village is located at 1583 Spinnaker Drive in Ventura.