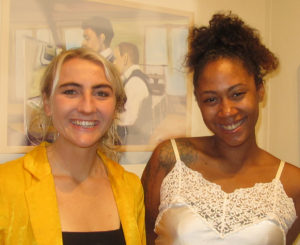 BAA is pleased to present their new staffers for the Buenaventura Gallery and the Art Association management. Kitty McGinnis moved away in July, and it was decided to replace her with two people, and divide the job into the areas of gallery management and administrative assistant.
Amber Evangelista: New BAA Gallery Manager
Amber is a full-time mom with a passion for art and fashion. She has worked behind the scenes for celebrity runways, various video productions and exhibitions. Even with her love of fashion she continued painting and designing illustrations. You can always find her at the farmers market, in a thrift store, or spending time with her family. As gallery manager for BAA, she focuses on the set up and operation of the galleries. She wanted to be a part of the BAA because of the community and an appreciation of the association's values. She looks forward to contributing her best for the growth of the Buenaventura Art Association.
Aubree Tuschka: Administrative Assistant
Aubree is a recent grad from UC Berkeley with a degree in Russian history and has passion for oil painting and watercolor. She is a Ventura native that has always been inspired by the Ventura art community. Aubree enjoys spending her days at the beach, hiking, and painting.