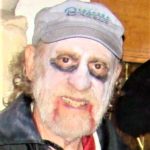 ∙Congratulations to Pam Baumgardner for being elected to the Board of Directors at CAPS Media. You can read all about it in the CAPS article in this issue. Pam, of course, covers music in the Ventura Breeze with her Ventura Music Scene appearing on page 20.
∙California health officials have issued a warning that people stop vaping immediately, joining a growing list of health experts advising caution for e-cigarette use following recent reports of severe lung illnesses, and deaths attributed to their use.
∙I love funny information on packaging. The box on a frozen pizza that is heated at 400 degrees in the oven states "Caution Product Is Hot". I always wondered if 400 degrees was hot.
And speaking of funny stuff a man faces life in prison after admitting in federal court that he tried to buy ricin for the purpose of poisoning his wife.
What is funny about this? He pleaded guilty to a violation of a federal prohibition on biological weapons. Apparently poisoning your wife is not a crime unless you violate federal law.
∙On the cover we have an article regarding our water situation. Soon water will cost so much that I will be taking baths in wine (you can bring the cheese and crackers).
∙Recently there was a fire off the freeway below Vista Del Mar. There were several fire engines on Vista Del Mar looking for small fires caused by flying ambers. They put out several so now I understand why they were there. Good job.
∙ I don't normally put opinions in my article but feel that these are important enough to have here. They are two emails sent by readers.
To opinions:
In this week's Breeze, 10/9/19, Shirley Lorraine wrote an excellent opinion for the Breeze regarding the lack of manners and foul language displayed in public by mostly young people.   You took the opportunity to politicize her comments with what you considered a snarky dig at our current president.  Do we not have enough anger and division in the country?  Please tell us, or at least think about; how is what you're doing helping the country?  
Mabrie Kidd
Mabrie:
We certainly do have enough anger and division in this country, but it certainly isn't my doing (I don't think I'm that powerful). I don't think criticizing the president of the United States (not a "young people") for saying b_ _ _ s _ _ _ is a non-constructive attack on our president. Shouldn't young people look at our president for guidance for what is right?
If this doesn't bother American's things are even worse then I thought they were. I think the country is always better served by the press speaking out, that is what a democracy is about.
Sheldon
Once again, I read your opinion article on 19/9. Interesting, but it seems like you cannot resist the need to end with a meaningless, derogatory. This does not serve you, the newspaper, or our community in any way. Report the news, give your opinion if you must in a constructive way.
Dave Cristofar.
Dave:
Once again, some readers don't think that I have the right to express my feelings. The only thing that I can think of constructive is to get him out of office.
Okay, the good news I won't comment about Trump in the future but I will use the words of others and Trump supporters can get mad at them. And, as always, I welcome emails explaining why Trump supporters do support him instead of emails just telling me to shut-up.
Starting with this.
"I've been dealing with my feelings about Trump's unprecedented move to expose the Kurdish men, women, and children to ethnic cleaning, just to satisfy his promise to the Turkish and Syrian "strongmen" to gain their support in his next election."
"Let's be clear about some facts. The Kurd's are among the bravest and reliable allies the US has ever had. They were instrumental in our efforts to keep heavy weapons out of the hands of Muslim extremists in Europe, and in defeating ISIS and the remnants of other extremists who will now regroup and attack US and Allied interests everywhere."
"This decision ranks among the most egregious acts on the part of any U.S. president; ever. I am hearing from brothers in arms who work side by side with the Kurd's in Kirkuk and Moselle. There were Kurdish men and women fighting alongside every US combat unit. That is why we entered into a compact with the Kurds to protect their homeland as strongly as we protect our own."
"Trump and his party have shown that there is nothing they will not stoop to in order to curry favor with the sworn enemies of this country. That is the definition of cowardice and collusion."
Tom Baines (he spent a career in military intelligence before becoming an attorney)
∙From a current police report.
" On 10/3/19, Lopez again entered the store and stole a large amount of property and was able to flee before Loss Prevention could detain him.
A review of the Ventura County Superior Court website shows that Lopez has prior convictions for burglary, theft, identity theft, possession of narcotics and domestic violence. I thought "3 strikes" was supposed to prevent this type of behavior.
∙ "By labeling Democratic-voting Jews as disloyal, the White House is spreading a hateful lie and attacking a powerful and quintessentially American ideal. How shameful."
Lev Golinkin
∙Ventura Mayor Matt LaVere has announced the winners of the 15th annual Mayor's Arts Awards and invites the public to attend its reception on Friday, November 15, 2019, from 5:30-8:00 p.m., at the Museum of Ventura County. More about this in our next issue.
Congratulations to:
Artist in the Community – Larissa Strauss
Creative Entrepreneur – Stephanie Hogue
Arts Leader – Denise Sindelar
Arts Educator – Mario Boccali
Emerging Artist – Juan Manuel Cisneros