Wonderful CMH volunteers. In the inset is Trudy Cook, Gary Wilde and Mary Cathcart.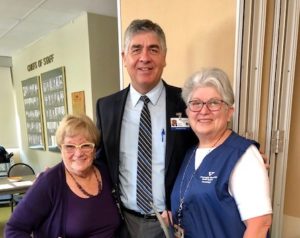 Volunteer Mary Cathcart was awarded Volunteer of the Quarter at the monthly Community Memorial Hospital Auxiliary Board meeting on October 14. Mary was honored for her dedicated service and most recently began a new service opportunity with the hospital's GI Lab and Infusion Center. Mary is often seen at community events, the Ventura swap meet, churches and other events, helping to recruit much needed new volunteers. Her warm personality, bilingual skills, and enthusiasm for the work she does as a volunteer made her the perfect candidate for Volunteer of the Quarter.
Mary stated "Community Memorial Hospital (CMH) is in need of additional volunteers to join their Auxiliary, especially now that the new hospital is open. It is a wonderful feeling to give back to our community. If being a volunteer in one of 15 services at CMH interests you, please pick up an application at the front desk of the hospital."
Volunteers only need to put in a minimum of 6 hours a month. Thank you for your consideration to join a terrific team at CMH.