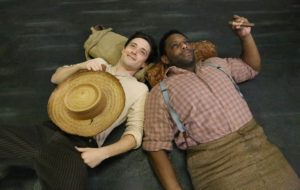 Rubicon Theatre opens the company's 22nd Season with the Tony Award-winning musical Big River: The Adventures of Huckleberry Finn. Big River is a rollicking river adventure based on Mark Twain's timeless 1884 novel.
In the story, the irrepressible, rebellious young Huck resists polite society and takes off on a raft with Jim, a runaway slave. On their journey, Huck and Jim encounter wild extremes of greed, bigotry, kindness and love. Twain's many memorable characters are brought to vivid life – from the Widow Douglas and her stern sister to two uproariously funny con men; from Huck's partner in crime Tom Sawyer and their rowdy gang of pals to the lovely Mary Jane Wilkes and her trusting family. Propelled by a soul-stirring score of country, pop, gospel and bluegrass music created by Roger Miller ("King of the Road"), Big River is a theatrical celebration of pure Americana and a powerful and timely coming of age story.
Rubicon's Big River is the fulfillment of a long-held dream for husband-and-wife team Kirby and Beverly Ward, both Broadway and West-End veterans. This production marks their third journey on the river. (They serve as Director/Choreographer and Associate Producer/Associate Director, respectively.) Kirby and Beverly have envisioned an environmental revival of the show with ensemble members who sing, play multiple characters and also play instruments. Their vision was to revisit Twain's timely tale with an integrated group of storytellers who have a sense of urgency because of the show's relevance to the present time.