Movie Review by Cindy Summers
Abominable




Breeze rating from 1 to 4 palm trees, 4 being best.

Abominable centers around a young determined female protagonist named Yi (Chloe Bennet) who finds a young Yeti on the roof of her apartment building in Shanghai and sets out to return it to it's home, Mt. Everest, which is why she named the Yeti Everest. Yi is constantly challenged during her heroic quest by a wealthy investor named Burnish (Eddie Izzard) and zoologist Dr. Zara (Sarah Paulson) who have their own plans to reap financial reward from capturing Everest. Through this epic adventure, Yi learns that with the help of Jin (Tenzing Norgay Trainor) and Peng (Albert Tsai), and Everest's special gifts revealed along the way, that anything is possible. Released by Universal Pictures, Written and Directed by Jill Culton, and starring the voices of Chloe Bennet as Yi, Tenzing Norgay Trainor as Jin and Albert Tsai as Peng.
Director Jill Culton conveyed conservation messages through the film regarding exotic animals and the importance of them living in their natural habitat. There were insightful lesson learned throughout the movie, such as Peng's comment regarding Everest being connected to nature like Yi was connected to her violin, as well as plenty of adult commentary, like when Burnish questions out loud the integrity of his plans regarding Everest upon recognizing his unique, exotic status.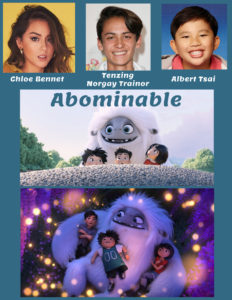 Chloe Bennet (Marvel's Agents of S.H.I.E.L.D.) was perfect in the role of Yi, as was Tenzing Norgay Trainor as Jin and Albert Tsai as Peng, as the animated characters were actually almost identical to the real actors and played a huge role in the realism of the animation – worth the visuals here to show what I mean.
The real star of this animated masterpiece is writer-director Jill Culton, who studied at the Character Animation program at the California Institute of the Arts, where she later taught animation. She's been in the animation industry for 30 years and previously worked on other well know animated movies including Toy Story, Toy Story 2, A Bug's Life, Curious George, Open Season, Open Season 2 and Hotel Transylvania. Colton began working with Deamworks Animation on Abominable in 2010, stepped off the project in 2016 and another team took over, then came back to direct the movie.
Abominable is a heartwarming movie filled with amazing visual brilliance and magical adventure the whole family can enjoy. It's ranked No.1 on the Top Box Office list grossing $21M it's first week and look for it to win the Best Animated Movie at this year's Oscars. I would recommend seeing it in Cinema XD, which offers trillions of colors on a colossal screen for you to be totally immersed in this spectacular animated adventure.
Rated: PG (for some action and mild rude humor)
97 minutes