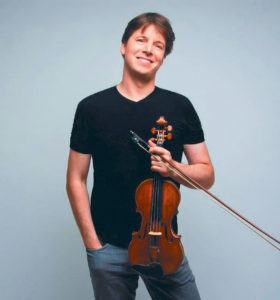 Joshua Bell's violin is believed to be one of very few made in 1713 by Antonio Stradivari in Cremona, Italy. While it has belonged to many, its connection to Bronislaw Huberman is what Bell finds fascinating. Huberman was a Jewish Polish violinist who lived from 1882-1947: a child prodigy who by 11 was already touring Europe as a virtuoso. At 13, he performed Brahms violin concerto in the presence of the composer himself. According to Brahms' biographer: "As soon as Brahms heard the Andante, he wiped his eyes, and after the Finale he went into the green room, embraced the young violinist and stroked his cheeks. When Huberman complained that the public applauded after the cadenza, breaking into the lovely Cantilena, Brahms replied, "You should not have played the cadenza so beautifully."
Huberman became one of the most celebrated musicians of his time and in 1929 began an effort that would add "humanitarian" to his accomplishments. He dreamed of forming a Palestinian Orchestra and began auditioning Jewish musicians throughout Europe, with those selected receiving contracts and impossible-to-get exit visas. To raise money for this new orchestra, Huberman partnered with Albert Einstein on a U.S. fundraising tour featuring Huberman and sixty top-rate players.
Though a great success financially, Huberman suffered a major setback in 1936 when his beloved Stradivarius was stolen from Carnegie Hall. While the heartbroken Huberman would never see his Strad again, his Palestine Orchestra debuted in December 1936 with the legendary Toscanini conducting. Of this special evening, Joshua Bell writes: "I like to imagine my own relatives might have been in the audience, as my grandfather was born there and my great grandfather was part of the first 'Aliyah' of Russian Jewish immigrants to Palestine in 1882."
As to the stolen violin, it was in the hands of young violinist Julian Altman for over fifty years until he made a deathbed confession to his wife in 1985 and she eventually returned it to Lloyd's of London.
Fast forward to 2001. The Huberman Violin is in the hands of the preeminent London business
J & A Beare Ltd when Joshua Bell enters to buy strings. They place the Stradivarius in his hands where it has pretty much stayed ever since. " I fell in love with it," he says, "and when I perform with the Israel Philharmonic, I think how many of the orchestra and audience members are direct descendants of the musicians Huberman saved from the Holocaust – with funds raised by concerts performed on the very same instrument I play every day."
The Ventura Music Festival and New West Symphony invite you to experience Joshua Bell playing his glorious Huberman Violin on Sunday, November 3rd, 3pm in the Oxnard Performing Arts Center. Ticket prices $30 to $96. A VIP ticket option at $225 features premium seating along with a meet and greet with Mr. Bell, and catered dinner. Tickets online: NewWestSymphony.org/Joshua-bell – or call the NWS box office at 866-776-8400.