Cliff Walker will once again push his personal limits by donning full firefighter gear at the Ventura Half-Marathon.
by Mira Reverente
Crossing the finish line of any race is considered a feat by many. Add some bulky gear and it's double the challenge.
Federal firefighter Cliff Walker is not new to challenges. He will once again push his personal limits by donning full firefighter gear when he toes the start line of the Ventura Half-Marathon on October 20. "Imagine running with an extra 70 to 80 lbs. of gear on top of my body weight of 185 lbs.," says Walker of Huntington Beach.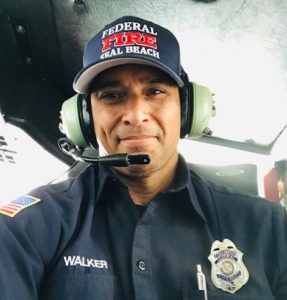 Walker's mission is to break the current Guinness World Record of 3 hours and 30 minutes in finishing a half-marathon with all his gear including his helmet, fire-retardant hood and pants, boots and breathing apparatus, which in itself already weighs a whopping 45 lbs.
Call it a contradiction of sorts, but according to the 52-year-old Walker, "the same gear that keeps us from getting burned, that protects us from the elements is also the same gear that isn't allowing heat to escape. So it could be fatal too since there's nowhere for sweat to go."
He won't be alone in his world record quest. Ventura resident Dan Cicileo, a fellow Ironman finisher, will be pacing him. Fellow firefighter Kirk Tanner, will also be part of his support crew, making sure Walker eats and hydrates at regular intervals. Austen Alexander, from an active duty Navy Boat Patrol unit in Seal Beach, will be filming the trio.
This will be Walker's second time running the race in Ventura, although it's the half-marathon this time. When he ran the marathon in 2016 on 9/11, it was to honor the fallen first responders. This coastal town is near and dear to his heart. "I lived in Ventura before joining the Navy," he says. "It's also a beautiful and relatively flat course – perfect for breaking world records."
The fitness fanatic is not new to breaking records, personal or otherwise. He ran 12 marathons in 12 months back in 2016, including Ventura. He has completed several full and half Ironman triathlons under his belt, plus over 30 marathons, a dozen half-marathons and many other fitness challenges completed in between.
He also manages a mobile fitness outfit called California Fire Fit which trains individuals and groups wherever they are. "Online training is really popular right now, plus we train them in the mental aspect of fitness too," he says.
Always on-the-go, the father of three claims that fitness is also his decompression secret. He bikes, swims, runs, lifts weights, practices Jujitsu, trains other people and runs after his kids literally and figuratively. He says, "Fitness is a way of life for me. I incorporate it in my daily life, even in being a dad or being a businessman."
Three days after his potential world record feat in Ventura, Walker will take his place in a competitive five-man relay team. His team hopes to shatter the world record in the Firefighter Combat Challenge in Montgomery, Alabama. The challenge involves typical firefighter everyday "stunts" like climbing up and down flights of stairs and rappelling in full gear.
Walker believes that one must be physically and mentally ready for anything in life. He says, "There's really no excuse not to do something that will help you when the time comes. Train uncomfortable to be comfortable when it matters most."