Kids at Mound Elementary participated with enthusiasm in learning about many of the foods grown in the community. Photos by Bernie Goldstein
As part of its new Ventura County Child Wellness Initiative, Students for Eco-Education & Agriculture (SEEAG) is hitting the road in its new "Farm Fresh Mobile Classroom," visiting schools throughout Ventura County this school year and bringing its message of healthy eating, proper nutrition and daily exercise.
The 30-foot-long cargo van made its debut on Friday, September 13 at Mound Elementary School in Ventura. Third graders learned about locally grown fresh fruits and vegetables through hands-on activities. They prepared healthy snacks and received recipes that they can make at home as well as nutritional information to share with family members. The van will visit 120 schools and reach 10,000 Ventura County students by 2021.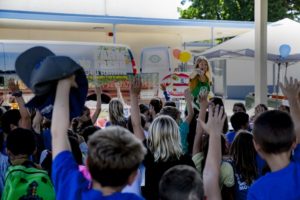 As part of the van's debut, five students created dishes from locally grown produce for judging.
"We want kids to get excited whenever they see our brightly colored van pull up at their school," says Mary Maranville, SEEAG founder and CEO. "Our goal is to cultivate a deeper appreciation for our local agriculture, and healthy eating and wellness practices that will stay with these young students throughout their life,"
Mobile Classroom Sponsors are Sprouts Community Foundation, Gills Onions, AGQ Lab, YCE Engineering, Pyramid Flowers. Wells Fargo, Montecito Bank & Trust and Crimson Pipeline.
For more about SEEAG's Farm Fresh Mobile Classroom, visit www.SEEAG.org
Founded in 2008, Students for Eco-Education and Agriculture (SEEAG) is a nonprofit organization that aims to help young students understand the origins of their food by bridging the gap between agriculture and consumption through its agricultural education programming. SEEAG's "The Farm Lab" program based in Ventura County teaches schoolchildren about the origins of their food and the importance of local farmland by providing schools with classroom agricultural education and free field trips to farms. Through this program, over 25,000 elementary school students in Southern California have increased their understanding of the food journey. SEEAG also hosts annual Farm Days—Santa Barbara County Farm Day, September 28, 2019 and Ventura County Farm Day, November 9, 2019. For more information, visit www.seeag.org.