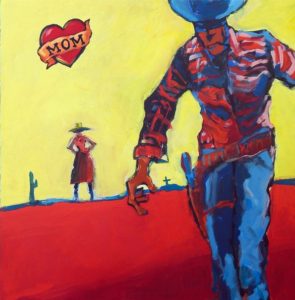 A Conversation with Mick Reinman
Sunday, September 29, 2019 3 to 4:30 p.m.
Museum of Ventura County, 100 E. Main St.
Mick Reinman has been described as a painter's painter – whether powerfully colored compositions that build on the human figure, landscape in its most basic architectonic form, explorations of the Nine Square grid or images of Spaghetti Western icons – the scope of his subject matter and style is broad. Reinman attended Chouinard Art Institute on a full scholarship and holds degrees from Cal State University Northridge and Art Center College of Design.
As an educator, the artist has been sharing his expertise by teaching at Otis College of Art & Design and Cal State University Channel Islands. Mick's paintings are widely collected and housed in prestigious public and private collections.
To learn more about Mick, visit www.MickReinman.com
Free to FOTM members, $15 for public; $10 for seniors.
Special invitation to educators and students: The Artist Spotlight is open to students attending as a class assignment free of charge. FOTM is happy to assist with tracking attendance and sign-in sheets. Reservations required. To RSVP visit www.FocusOnTheMasters.com or call 805.653.2501.
Co-sponsored by Jordan Laby & Ojai Studio Artists