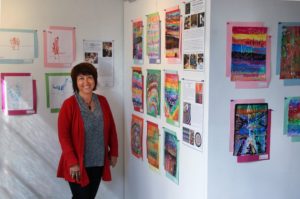 Focus on the Masters (FOTM) Arts Archive & Library, together with Cumulus Media and Jordan Laby, present FOTM's 25th Anniversary Celebration For the Love of Art on Saturday, September 14, from 6 p.m. to 10 p.m., at the Four Points by Sheraton in Ventura. The Celebration is a benefit in support of Focus on the Masters' award-winning arts education programs including the Learning To See Outreach, a sequential in-school and community outreach art program for at-risk youth and Title 1 schools.
"Our 25th Anniversary is such a tremendous milestone!" stated Founder and Executive Director Donna Granata.
Guests will experience an expansive 75-foot interactive FOTM timeline chronicling the last quarter century of local artists, art history and notable events.  The event will be full of "art for all" including FOTM's famed $20 Celebration Mystery Bags filled with all kinds of art related treasures worth at least $50, unique live and silent auction items and the chance to win an original serigraph by Mary Michel.
FOTM has served the community for over twenty-five years through their educational arts programming. Since that time, their Learning To See program has brought compelling lessons to over 250,000 students throughout Ventura County.
Program director Aimee French explains, "The local artists featured in every Learning To See lesson serve as strong role models. Students learn that every artist has their own story and that they persevered in pursuit of their passions."
Everyone will enjoy the great comradery, delicious food, music, live and silent auctions all For the Love of Art in support of FOTM's community outreach. Tickets for the event and for the opportunity drawing for an original serigraph by Mary Michel are available on line at www.FocusOnTheMasters.com or by calling 805.653.2501.