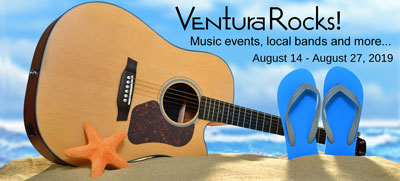 by Pam Baumgardner
VenturaRocks.com
The Ventura County Fair really delivered this year with their Grandstand Stage lineup; there was something for most everyone. I caught and shot several shows including Melissa Etheridge, X Ambassadors, George Thorogood and of course Collective Soul. If you're so inclined, go to VenturaRocks.com for the August 2019 photo gallery to check out some pretty cool photos of those bands (and page XXX of this issue).
Spencer Makenzie's annual End of Summer Block Party will feature a free concert on the evening of Saturday, August 24, with Johnny and the Love Handles, A.D.D. and wrapping up the evening in their finest 80's fashion will be Mandex!
Coming up before you know it, the Ventura Nationals will return to the fairgrounds over Labor Day Weekend. Along with all the hot rods, "kustoms" and motorcycles, will be plenty of live music from Jesse Dayton, Tom Kenny & the Hi-Seas, Eddie & the Scorpions, The Moontones, and Ventura's own, The Rockin' Henrys.
The Music Under the Stars series continues on Saturday nights at Olivas Adobe with Blue Breeze Band on August 17 and Savor on the 24; unfortunately, all remaining shows are sold out.
Quick Notes: The Speakeasy Project's American Roadhouse will be held the next two weekends at Ventura Vineyard in the Suite J Theater; Goodnight Kiss is back with new music and a gig at Bombay's on Saturday, August 17 (6-9 pm); Benjamin Buttner is the Munch artist this month for the Museum of Ventura County's free lunch time music on Thursday, August 15, (11:30 – 1:30 pm); Toni Dodd joins Tommy Marsh for the Session at Grapes and Hops on Thursday, August 15; Food Truck Friday this month falls on Thursday, August 16 with Alter Ego playing Classic Rock at the Pacific View Mall (outside Trader Joe's); you'll find the Pretty Uglys along with Johnny Thunders and an open jam with Deep Cuts at Red Cove on Saturday, August 17; The Rubicon's annual fundraiser, Kids for Kids benefit, features Broadway's hottest tunes on Sunday, August 18; Fausto Cuevas & su Cinquillo host Havana Nights at Limon y Sal on Tuesday evenings starting at 6:30 pm; there will be live music at the Garage on the afternoon of Sunday, August 25, starting at 2 pm featuring Dangerously Sleazy, The Hymen Blasters and Fred Burger; another fundraiser, Jamming for Hose, is at Bombay's with several bands playing from 2 -9 pm on Saturday, August 24 this one has The Doc Ventura Band, Marley Rae, Shades of Blue, The Sea Hunters, The References and The Lavender Experience – they're asking for a $10 donation at the door; Nathan McEuen plays Topa Mountain Winery on the afternoon of Sunday, August 25; and Justin Hayward, songwriter, lead singer and guitarist of the Moody Blues plays the Majestic Ventura Theater on Saturday, August 24.
Do you have any music-related news or upcoming shows you want help publicizing? Please send all information short or long to [email protected]. For updated music listings daily, go to www.VenturaRocks.com.