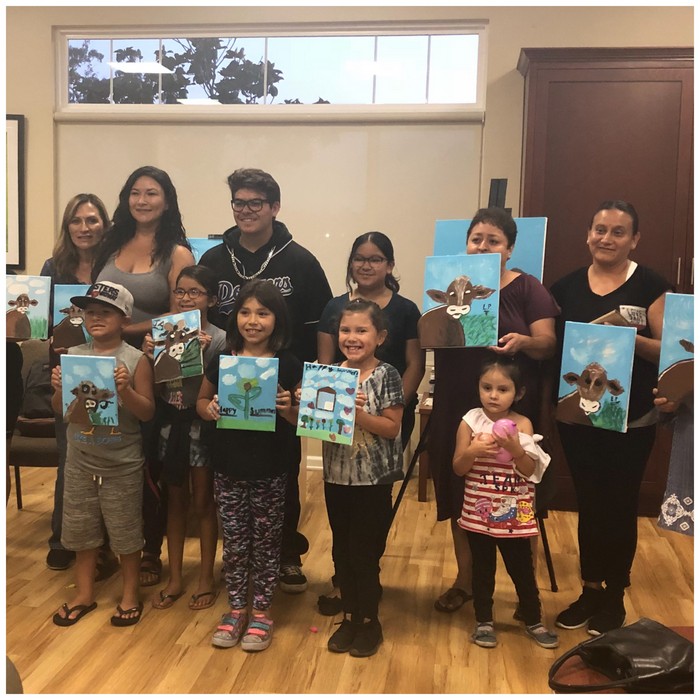 About 40 residents at Azahar Place Apartments in Ventura enjoyed a paint night courtesy of two teens with an artist's knack who donated their time to teach fellow residents ages 3-70 how to paint.
William Caceres. 14, and Jazmin Garcia, 12, both residents of Azahar Place apartments, stepped in when the professional instructor originally contacted to conduct the event canceled at the last minute, said Gabby Vignone, resident manager at Azahar Place Apartments.
Jazmin said she had a lot of fun working with fellow residents and helping them learn to paint. "I was a little shy at first, but the people were nice and made me feel comfortable," she said.
William, who attributes his talent to his family, since his grandmother and great grandfather are both artists, said the biggest challenge in putting on the event was trying to find inspiration to know what to paint and speaking to a room full of people.
"It felt amazing to teach a room full of people how to paint because some of the people that were in the room may never get to have the chance to take an art class," he said.
The paint night event is part of a series of community events that take place each month at Azahar Place Apartments.
Vignone said resident Maria Sanchez, grateful for the teens' instruction, asked if they could teach an art class once a month so everyone at Azahar could become as talented as William and Jazmin.
"The teaching aspect alone created confidence in the young teens, gave them an item to put on their resume, and a way to say thank you to all of their community. Paint Night was an immensely beautiful and special event and provided an opportunity for families who cannot afford to purchase tickets to a paint night a chance to have the same experience with their entire family present," Vignone said.
Office Depot, Veronica Garcia and Cabrillo's Resident Services Department, provided supplies for the event