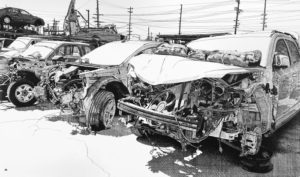 A conversation with Ichiro Irie Sunday, August 18, 2019 3 to 4:30 p.m., Museum of Ventura County
100 E. Main St.
Ichiro Irie was born in Japan and reared in the Westside of Los Angeles. He is an artist, independent curator and art educator.  He studied film and communications at UCSB, earned an M.F.A. at Claremont Graduate University and was the recipient of a Fulbright Fellowship where he completed a residency in Mexico City.  In 2009, Ichiro opened an artist-run space in Los Angeles called JAUS (pronounced "house"), that deliberately refused to limit itself to any specific genre, aesthetic or theoretical parameter.
As an interdisciplinary artist, Ichiro's work explores a wide range of issues and spans a variety of media. His meticulously detailed ink drawings of junkyards, crashed cars and other unexpected sites of contemporary destruction, pair brilliant technical facility with a brooding interest in the darker cultural dimensions of consumption and waste.
Irie currently lives and works in Los Angeles and teaches at Oxnard College and Ryman Arts on the campus Otis College of Art & Design. Irie has organized over 40 exhibitions and has exhibited his work internationally in galleries and museums including, Los Angeles, New York, Mexico City, Tokyo, London, Warsaw, Frankfurt, Berlin, Rotterdam and Buenos Aires.
Free to FOTM members, $15 for public; $10 for seniors.
The Artist Spotlight is open to students attending as a class assignment free of charge. FOTM is happy to assist with tracking attendance and sign-in sheets. Reservations required. To RSVP visit www.FocusOnTheMasters.com or call 805.653.2501. Sponsored by Paula Spellman
To learn more about Ichiro, visit vhttp://www.ichiro-irie.com/