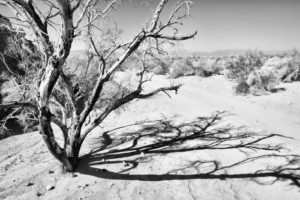 Nature is in the forefront for two new exhibitions July 25-Aug. 25 in Buenaventura Art Assocation's Ventura Avenue gallery space, Studio 30 at Bell Arts Factory.
"From the Desert to the City and Back Again" is the title of Darlene Roker's solo photography display.
It is paired with "Root and Branch," a juried show featuring artworks by BAA members that have trees as the primary subject of paintings or using parts of trees — bark, wood, twigs, leaves — in mixed media or assemblage pieces.
A reception for both will be 6-9 p.m. Aug. 2 as part of Ventura's monthly First Friday gallery open house.
Buenaventura Gallery at Bell Arts Factory, 432 N. Ventura Ave., is open 11 a.m.-4 p.m. Thursdays through Sundays. For more about the 65-year-old nonprofit cooperative and its programs, visit www.buenaventuragallery.org or call 805-648-1235 during gallery hours.